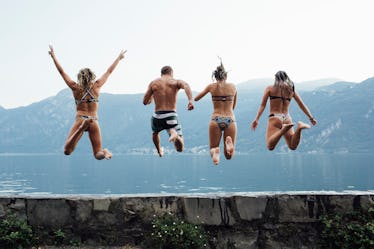 7 Times Your Guy Friends Make The Best BFFs You Could Ever Ask For
Michela Ravasio/Stocksy
Oh, boys. Our girl friends are our soul sisters. They're the ones we go to for spontaneous dance parties, late night nugget runs, and Gossip Girl reruns. They put up with our tears, and talk with us until we smile. Yeah, we love our gal pals -- but our guy friends are sometimes the most underrated in our bestie bunch. They're the boys we trust, and the buds who feel more like brothers. They're the ones that will protect us, but also push us to be better. There are a million times your guy friends are the best friends you could ever ask for -- but let's look at just a few.
Maybe you met your guy bestie growing up, or found a whole squad to call your own at college. However your personal boy band entered your life, I hope you appreciate and love them as much as an actual boy band. (Long live the Jonas Brothers and Backstreet Boys.)
Truth is, you're awfully special to them, too. You might give them girl advice, or make them mac and cheese when they're hungover. You've probably on more than one occasion picked them out of a sticky situation or given them a couch to chill on.
Yeah, they love their gal pals, too. But, before we start cheering ourselves on, let's hear it for the boys. What would we do without them?