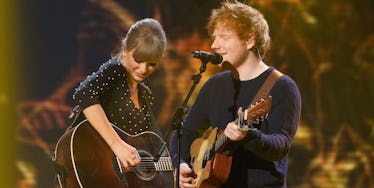 20 Benefits You Only Get From Having A Guy Best Friend In Your 20s
REX/Shutterstock
Having a male best friend is so much different than having a female BFF.
A gal pal may be better to get wine wasted with while browsing the racks at Bloomingdale's, while you and your guy bestie might make for a better wing person duo at the bar.
Like any kind of relationship, they both come with incredible ups, and #NotSoBlessed downs at times. But still, we never love them any less.
For all of the ladies out there lucky enough to have a male partner in crime, you already know you wouldn't trade him for the world.
Take Taylor Swift and Ed Sheeran, for example. Those two are always each other's biggest fans, and their friendship is actually quite adorable.
The bond you have with your guy BFF brings balance to your life, and you can always count on him to make your day so much better when it's anything but spectacular.
He's always your main bro to stuff your face with burgers and fries when you're craving it, and he'll be the first one at your side to have your back.
He knows just what makes you tick, never failing to turn your frown upside down… and you know the same about him.
Here are the 20 benefits you only get from having a guy best friend:
1. He's the perfect decoy to save you from a stage five clinger at the bar.
2. There's no jealousy — he's happy for all of your successes and achievements.
3. He's not into drama.
4. He doesn't hold grudges.
5. He makes the prime wingman.
... And will definitely be part of your wedding party someday.
6. He's awesome with giving his honest opinions about your outfits and hairstyles.
7. He'll protect your secrets until the end.
8. He gives you the best advice, because he's giving it from a guy's perspective.
9. He has no problem telling you when you're wrong, and praising you when you're right.
He'll never give you a load of crap, and you can always expect brutal honesty from him.
10. He'll tell you straight up when the guy you're talking to is a novice at Douchebag 101.
11. That text the guy you've been talking to sent (that you have absolutely no clue what it means)? He'll let you know what's up.
... And he'll let you know if you should drop the bastard like a hot potato.
12. He gives you major pointers about what to do, and what not to do on a date.
13. He knows a lot of GUY things that you may need some explaining on… without judgment.
14. You'll meet all of his hot guy friends and co-workers.
15. He doesn't get pissy over dumb things, or allow them to cramp his vibe.
16. You can make plans with him without baggage, or any strings attached.
17. He's the number one person you'd want to chill at a sports bar and crush beers with.
18. He'll help you move into, and out of, your first apartment.
Including driving the moving truck AND helping you set up your new furniture.
19. He's totally OK with spending a night in binge-watching Netflix.
... When the rest of your gal pals want to party it up at the club.
20. If you need him to be your date to multiple weddings, he's always down.
Author Sarah Ockler once said,
In your entire life, you can probably count your true friends on one hand.
… And it's true. The number of loyal, honest gems in your life should be cherished, because they come few and far between.
You and your guy best friend — you'll stick together like glue because he's a keeper.