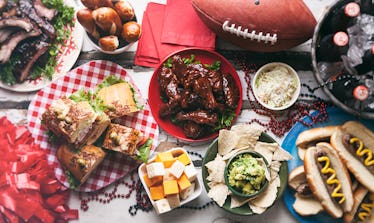 These Super Bowl Party Themes Are Pure Genius, So You Don't Have To Just Wing It
Sean Locke/Stocksy
Touchdown! It's officially the end of football season, which means you need to place your wings order now. The Super Bowl is one of the biggest events in sports, attracting thousands of fans to their TV screens and into chilly stadiums to cheer on their team. Some people aren't in it for the sports, but rather the unreal snacks (I'm so guilty of this.). From spinach artichoke dip to cheesy potato skins, can you really blame them? But, if your pals are coming over to your place this year, don't just stock up on chips and salsa. One of these Super Bowl party themes will put you right in the end zone every time.
This Sunday, the scaries won't be quite as real. The Super Bowl calls for surrounding ourselves with rowdy sports fans and friends, lots of beer, and having a ball. It's the one time of the year we voluntarily sit through commercial breaks and disable our mental ad blockers. Everyone will be talking about the funniest ones tomorrow, and so you strategically load your plate up with nachos before the Budweiser one comes on. Sure, there's always that five minute break before halftime while they're setting up the show. But, you wouldn't want to miss a minute of Justin Timberlake bringing sexy back.
If you want to really go the whole nine yards and show your party people a good time, don't just wing it. These seven Super Bowl party themes will surely score you the title of most valuable player.