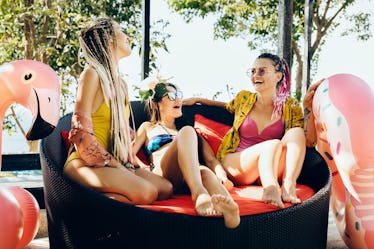 A "Sistermoon" Is The Girls' Getaway You & Your Number One Have Been Sleeping On
Have you ever heard of a "sistermoon?" Well, before you hit up Google to see what celestial event is on the way, it has nothing to do with a show that's taking place in the night sky. A sistermoon is an annual getaway you take with your sis to strengthen your bond and create even more unforgettable memories. Your sistermoon trip ideas should revolve around places and activities you know you and your main squeeze will enjoy exploring together.
Think of it as a family vacay, but only with your number one girl. This trip is crucial so that you and your ride or die can catch up. (You know, since life's responsibilities can oftentimes get in the way of seeing each other as often as you'd like.)
Whether you pick a spot that you can bring your pool floats or yoga mats, you and your sis deserve this relaxing time with each other. Oh, and if you want to get super nostalgic, throw in a hair braiding session or '90s hip-hop-themed brunch. Even though "sistermoon" may not have anything to do with outer space, with any of these seven ideas, the feels will seriously be out of this world.