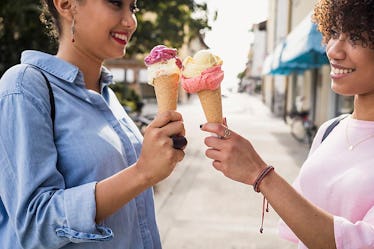 7 Fun Weekend Trips To Take With Your Sis That You Probably Never Thought Of
Think about the one person you would do absolutely anything with. If you have a sister, she's probably the first person who pops into your head. She's your ride or die, and no matter what's going on in your life, you're always ready for adventures with her. Planning fun weekend getaways to take with your sister is what you live for, and if you can both experience something new, you are here for it.
Ever since the two of you were building forts in the living room or pitching tents in the backyard, your imaginations have always planted creative ideas in your heads. Now that you're older, that wanderlust hasn't changed, and even if you aren't necessarily hopping on a plane for a weekend getaway, you're ready to explore. It might seem like the two of you have done it all, but that's only because you always have the itinerary jam-packed when the two of you get together.
Coordinating a few days together? The fun starts in the planning. There are hardly enough hours in the day, so if you want to feel like you made use of your weekend getaway with your day one, try pairing up and tackling a few not-so-obvious opportunities.