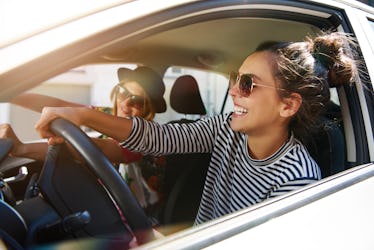 8 Things Only Your Sister & A Road Trip Can Truly Fix
Life can majorly suck at times, and right when you think you're about to freak the heck out from being overwhelmed, your sis is right there to swoop you up and hit the road. Seems like a pretty simple escape, right? You love and cherish that simplicity, and thankfully there are many incredible reasons why you should go on a road trip with your sis that are better than any other remedy you can think of.
Blame it on the open road and her even more open ears, but with those two things in your corner, you're on your way out of whatever frustrations are wreaking havoc in your life. While any venting session with your sister is heaven-sent, having her on the road with you gives you a different level of contentment and that feeling of being safe and listened to.
We all need that security of knowing that no matter how much you sob, cry, or scream about something, you won't be judged or scorned. Our sisters and road trips are the rejuvenation we need when we feel like all odds are against us. Even if you don't know where you're going, by her side is exactly where you need to be. Any of these real-life, leave-me-the-hell-alone situations can certainly be fixed with your sis and the road.