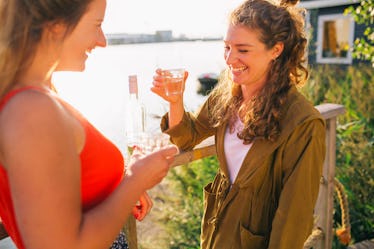 You Can Stay In A Treehouse At This Winery, So Cheers To Your Next Girls' Trip
Remember when you were a kid and your treehouse was the coolest thing ever? It was only steps away from your house, but once you climbed up, it seemed like you entered an entirely different world. Now that you're an adult, combine that nostalgia with the feels you get when you open a bottle of your favorite wine, and get ready to swoon. You and your girls should start packing your bags ASAP, because a winery with treehouses actually exists, and it's the perfect spot for your next getaway.
By now, the wino in you should be overjoyed. Treehouse Vineyards in North Carolina has upgraded the typical treehouse experience with major #GlampingGoals to bring you the ultimate location to relax and un-wine. Why wasn't this magic thought of sooner? Well, this innovative winery isn't entirely brand new.
According to its website, the family-owned winery in Monroe officially opened its doors back in 2010, but it all started with a pretty valid thought in 1999: Why can't adults have their own treehouse? After building the epic treehouse with unbelievable features, like a phone and an outdoor fireplace for the adults of the house, the Nordans received a lot of recognition. In 2005, they began planting vines and put in work for half a decade in order to finally open for business. And oh, did the hard work pay off.
Treehouse Vineyards has three different treehouses on the property.
"Date Nite Treehouse" is the original treehouse built back in the late '90s. It can fit up to six adults and features an awesome porch for much-needed relaxation. Oh, and don't forget the sunsets. The scenery is seriously breathtaking, and when you factor in the lovely wines you can sip on while taking it all in, it's pretty surreal. Although you can't stay in this treehouse overnight, it goes for an hourly rate and makes for the ultimate day trip.
"Horsefeathers Hideaway" is the perfect getaway from your hectic schedule.
This treehouse fits up to eight people and is nestled away in the beautiful foliage. It will literally make you feel like you're back in your favorite childhood hideout. Who wouldn't want to feel like they can put the world on pause and sip a lavish riesling with their friends? I know I would.
This treehouse will make you feel right at home with its cozy kitchenette, mini fridge, deck with a grill, queen-size bed, and air conditioning. Another cool perk about staying in this treehouse is that you're allowed to go fishing in the pond. As if the treehouses weren't bait enough. I don't see how anyone could ever willingly leave this place.
Did you think I forgot about the wines?
Treehouse Vineyards offers plenty of tasty wine options. You'll truly be in wino heaven, and some of the names are enough to make you look twice. You'll want to get your hands on a sample ASAP. I personally want to take a sip of its "Sunset Hills," "Her Way," and "Liquid Sunshine." Whether you're a red or white drinker, the vineyard has something in stock for you.
Feel free to enjoy the gourmet snacks the vineyard has to offer, or you can pack a picnic for yourself. You and your girls can book a treehouse or simply look into taking a tour of the property and get your sample sipping on. Want to visit the vineyard, but couldn't quite snag the Papa's Dream Treehouse soon enough? The vineyard receives a special rate for a couple of hotels nearby, so be sure to mention it while booking.
If there is anything that's true about wine, it's that there are so many fulfilling ways to enjoy it. If you ask me, sipping away while in a treehouse with an amazing view seems bucket list-worthy.