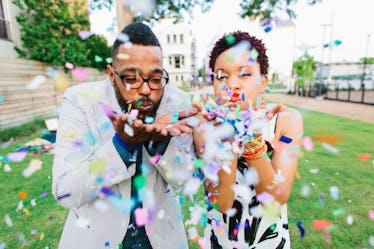 If You're Not Spending Enough QT With Your SO, Here's How To Fix It
Is it just me, or does time begin to move at an accelerated rate as soon as you hit 18? Summers used to feel like they lasted ages, and birthdays once took forever to come around. Time is a tricky beast — it truly has a way of getting away from us. But when life gets in the way, if you're not spending enough time with your partner already, the moments you do share start to feel fleeting. It's perfectly normal to struggle with misaligned schedules and conflicting engagements. It's all part of growing up. The key is to acknowledge the state of your relationship, and take joint action towards fixing it.
I, too, have fallen victim to poor planning and trudging through life full speed ahead. My partner and I began dating our senior year of college, and both found the transition to adulthood to be anything but seamless. At the very beginning, we were both working full-time jobs with absurd hours. As a result, the surmounting stress led us to lash out when we actually did get to see each other. We picked fights over trivial matters. Through patience, understanding, and mutual respect, we ultimately learned how to carve out a little slice of the week for each other, even if that meant just sleeping together in the same bed. We now cherish every lazy Sunday — thanks to the simple yet effective art of honest communication.
If your relationship is showing one of the following signs, don't hesitate to speak with your significant other about how you're both feeling. If it turns out your connection is, in fact, suffering from time spent apart, don't worry: Your love isn't doom to fail just because it falters.