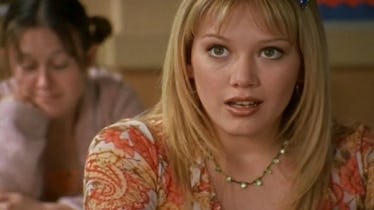 7 Shows From The '00s That Deserve A Reboot, Since Every Other Show Is Getting One
Disney
Has your favorite series from childhood gotten the reboot treatment yet? Nah? Well, just you wait. It's seems like it's only matter of time before a TV classic you grew up is in the running for a modern makeover. Clarissa Explains It All is coming back, as is Roswell, Charmed, and The Magic Schoolbus, and that's only a handful of revivals you can expect in the coming years. If you can't beat the trend, why not join it? We think there are at least few shows from the '00s that deserve a reboot.
It's basically a given that stars and creators from TV hits of yesteryear now have to address the inevitable inquiry of whether their show will be returning for more. The gang from Dawson's Creek just shot down the possibility of an updated version of the teen drama in EW's reunion issue, Jane Krakowski just sparked talks of continuing 30 Rock, and the concept of an Office revival always seems to be floating round the blogosphere and beyond.
Those who came of age or just lived through the early 2000s know how important that era of entertainment was — High School Musical, Harry Potter, TRL all helped define a generation. Here are our picks for TV shows from the first part of the decade that would make for solid reboot material.
1. The O.C.
This could work two ways: Either bring back the original characters that made this SoCal teen soap so addictive (RIP Marissa) or cast a whole fresh crop of young people to deal with drama by the coast. It would be a blast to see Seth Cohen and the gang in their late '30s, but I'd settle for new Orange County blue blood. California, here we come...
2. Lizzie McGuire
Hilary Duff plays a big city millennial to perfection in Younger (I mean, she is one IRL, so...) — maybe she should consider making the jump to bringing back lovable Lizzie for her next entertainment endeavor. Imagine seeing the now 20-something deal with actual adult problems like filing taxes or maintaining a healthy relationship. I'm also curious as to what her updated cartoon counterpart looks like.
3. Drake & Josh
The stars drummed up enough Internet drama last year to get people interested again. Ride the wave. Make this happen.
4. The Hills
OK, The Hills didn't come out until 2006, but it was a spin-off of 2004's Laguna Beach. The fascination with attractive young adults trying to do their thing in Hollywood (see: Vanderpump Rules, Entourage, Melrose Place) will probably never die. That what makes The Hills a timeless concept. The original might be a time capsule into the headband-clad days of mid-aughts La La Land, but that doesn't mean it doesn't deserve an update.
5. Undeclared
I'm a champion of anything Freaks & Geeks, but let's face the facts — it would be hard to recreate the magic of the show that launched the careers of Jason Segel, James Franco, and Busy Philipps, to name a few. Collegiate comedy Undeclared is much more doable and could be revived with a freshman class of untapped talent. Judd Apatow, are you listening?
6. All That
With YouTube and Instagram making young folks famous at the push of a button, there really aren't enough teen sketch comedy shows out there. Don't you want to meet the future Kenan Thompson? Let's do this.
7. Firefly
Joss Whedon's tragically short-lived Firefly is considered by some to be one of TV's greatest losses ever. The plan to bring it back has been shot down in the past, but with a rabid fanbase like this, it feels like anything is possible...