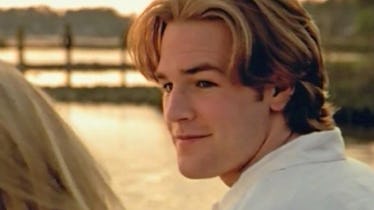 Fans Are Dying To See A 'Dawson's Creek' Reboot, But The Actors Aren't So Sure
Warner Bros. Television
I don't want to wait for our lives to be over, I want to know what will it be?! Is a Dawson's Creek reboot happening? With all the '90s revivals and nostalgia entertainment in development and on our screens, it seems like a return to Capeside is inevitable. The teen drama that paved the way for shows like One Tree Hill and The O.C. was a fan fave of the buzzy decade. Now the original cast is weighing in on if they would ever resurrect the show that changed their careers forever.
"It would have to be a reinvention of sorts," James Van Der Beek, who played the titular Dawson, recently told Entertainment Weekly for the magazine's cast reunion special. "Not in the way you're envisioning, probably."
Katie Holmes, otherwise known as Joey Potter, chimed in that Dawson's is a cherished relic of the past. "What I love about this show is that it existed at a time pre-social media, pre-internet, and it was nostalgic when we were shooting it. And I like that we ended it and we were all five years older. It does feel like it was completed," the actress noted.
Michelle Williams also makes a good point about why she's ineligible for any future Dawson's Creek revivals. Spoilers ahead if you never finished Dawson's Creek and you were planning on catching up over 15 years after its finale, for some reason. "I'm dead," the Oscar-nominee remarked, when asked if she would ever consider a sequel. It's true — the writers decided to off her character Jen at the tragically young age of 25 in the last episode. It was dark. And quite frankly, unnecessary. Justice for Jen!
"I would love to see someone else's take on it, but I don't think it's gonna be me," creator Kevin Williamson said of a reboot, explaining that he would have to have an emotional connection to the material to make it work.
The palpable chemistry Dawson's Creek's talented ensemble cast had together doesn't come along very often, but it does not seem likely they would come back for more emo chats, soapy love triangles, and life lessons. If the show were to be revived, I would have to imagine it would go the start-from-scratch route and cast completely new high school-ish aged actors to portray a revamped handful of adolescent growing pains to deal with.
Let's face it, loyal Dawson-ites.. Michelle Williams is now a four-time Oscar nominee. James Van Der Beek has a role on Ryan Murphy's upcoming series, Pose. Katie Holmes is in Ocean's 8. Joshua Jackson is about to do a Broadway play. And if you're not watching Busy Philipps' (who's in next month's rom-com, I Feel Pretty) Instagram stories... well, you're seriously missing out. This could be a case of a cast who has forever moved on from the project that made them household names, even if they think of the experience fondly...
If you need updated editions of coming-of-age shows of the past, CW's Roswell reboot is currently in development. There's also Clarissa Explains It All, Sabrina the Teenage Witch, and Party of Five to look to. Even Beverly Hills, 90210 is getting a modern makeover.
Maybe Dawson's Creek is the exception to the revival rule and Hollywood producers will just let it be. May the beloved Capeside crew live on in our hearts (and on Hulu) for eternity. If you listen hard enough, you can conjure the sweet sounds of Paula Cole any time you want... And of course, there's also this iconic GIF to remind you of what once was: