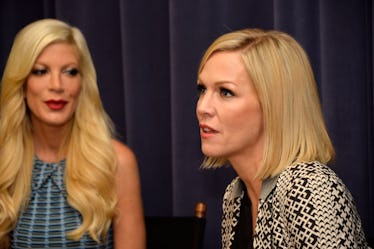 A '90210' Reboot With Tori Spelling & Jennie Garth Is Coming & We're Not Worthy
Ben Gabbe/Getty Images Entertainment/Getty Images
It looks like TV is getting to the point where classic '90s shows that have already been rebooted are getting revived for a second time, but in the case of Beverly Hills, 90210, we're always up for a reunion. Sure — Donna Martin has long since graduated and she and Kelly no longer share a beach house (or do they now?), but a 90210 reboot with Tori Spelling & Jennie Garth is reportedly in the works. It's time to return to Cali's most famous zip code, people.
Jennie and Tori have been pals since their days on Beverly Hills, 90210, which ran for a whopping 10 seasons from 1990 - 2000. Both actresses made appearances on the 2008 90210 reboot, and they also teamed up for 2014's short-lived ABC Family detective comedy, Mystery Girls.
According to People, the new series — which is loosely based on the Aaron Spelling teen drama mega-hit — "will feature Spelling and Garth, 45, playing exaggerated version of themselves." It's currently in development at CBS, and if you've been paying attention to Tori's social media of late, they've already started getting back into the swing of things. "#back2work great creative day yesterday with my #partnerincrime@jenniegarth#90210vibes#donnaandkellyforver#besties," Spelling captioned a pic of her at the CBS Studio Center over the weekend.
We have so many questions. Will other cast members sign up? Will they acknowledge the events of the 2008 CW reboot? Will there be a Pitch Pit? Or perhaps, a Peach Pit After Dark? This is a complicated narrative universe we're dealing with.
With reboots popping up constantly over the past few years — Roseanne, Will & Grace, the upcoming Murphy Brown, to name a few — it's no surprise that producers are looking backwards to go forward with such a beloved 1990s staple like 90210. And maybe focusing on the actual cast instead of using fresh, teenage-ish talent is the way to go this time around. 90210 repped a generation and created a groundbreaking moment in television. The primetime teen soap genre was never the same. It's possible that its original viewers might tune in to tap into a little nostalgia at this stage in their lives.
Of course, the reboot and reunion convo has been a topic of discussion for a while now. "I love all my old castmates, working with them again would be amazing," Jennie Garth told Entertainment Tonight about the possibility last June. "What a great thing to do. It would just have to be the right coming together of all the minds that need to come together."
"Tori and I are still good friends, our kids are friendly and we still love a good laugh at each other. We run into each other all the time," she added.
We know the Jennie and Tori are down for more 90210-style endeavors, but what about their former co-stars? Luke Perry has also expressed interest in making some sort of revival happen. Although he's been chilling in Riverdale these days, the actor admitted on Today last year, "We have talked about it recently... I very much would be interested in doing it this time." Hear that, CBS? Don't you dare forget to call Dylan McKay!
"If the opportunity came for all of us to get together and do it again in some sort of limited-run capacity, of course I would do that with those guys," Jason Priestly aka Brandon Walsh additionally revealed.
Hopefully everyone's on board and Jennie and Tori will welcome them with open arms. Now, if only they can get the rights to the OG theme song... Cue that sultry sax. We're ready for more.