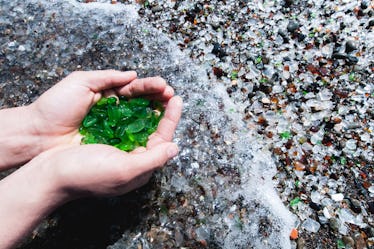 7 Sea Glass Beaches Across The Country That Are Totally Hidden Gems
Caine Delacy/Stocksy
Summertime sadness is so real, and wandering to warmer weather sounds pretty ideal. Life's truly a beach, and we've learned to roll with the waves over the years. Sure, we will inevitably have to deal with the sand and seaweed along the way — but once we're sitting along the coast with a cooler by our side, there's not a care in the world that can keep us from soaking up the sun and surf. If you're headed down to the shore soon, but want to make your experience a little more unique, one of these sea glasses beaches in the U.S. might be your best option. Shell we get started?
Editor's note: make sure before visiting a sea glass beach to do your research, because some of them prohibit taking the sea glass home with you.
First things first — if you don't know what sea glass is, you might want to get schooled by a little bit of science. To keep it as simple as possible, sea glass is a natural wonder in the shores of places with salt water. It looks like a piece of glass, no different from the one you drank your orange juice out of this morning, but frosted and a little more shaped like a stone.
You can't find sea glass at every sandy spot. You could absolutely try your luck next time you're on an island vacation and take a walk along the water before the tide comes through. But if you want to be guaranteed to see some glass, I highly suggest checking out one of these seven spots around the country.