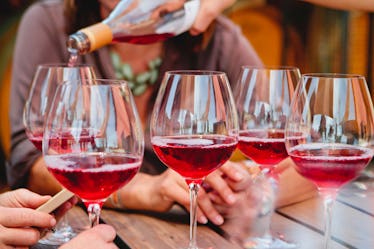 These Delivery Apps Will Help You Rosé All Day Like A Pro This Summer
It's "rosé all day" once summer rolls around, and there has never been a better time to be a fan of the tasty pink wine. There are plenty of options when it comes to picking out a bottle for all your rosé needs this season. Even better news is that thanks to the invention of alcohol delivery, you don't have to panic when you run out of the good stuff at your backyard BBQ. Of course, apps that bring the booze to you have a wide variety of liquor, beer, and wine, but the rosé selection is out of this world. Here are seven rosé delivery services to help your summer run smoothly (if you're 21 years or older).
If you're the planner of the group, then you're probably the one who is in the wine aisle doing not-so-fun "wine math" to figure out how many bottles of rosé your crew will need for your annual summer backyard bash. While you can do your best to plan ahead, sometimes you run out of the good stuff and need a few more bottles ASAP. You can still keep having fun with all your besties when you take advantage of the rosé delivery apps that will keep the pink wine flowing.