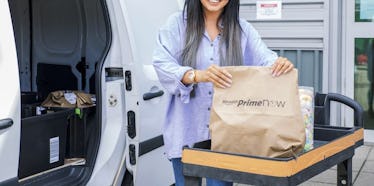 Amazon Will Deliver Booze To Your Door In 1 Hour If You Live In These Cities
Andrew Benge/Getty Images
Your Amazon Prime account is the ultimate life saver. When you need a new Korean beauty mask in two days, the 'Zon has you covered. When you want to binge watch a show you love, you can just hop on over to Prime Video and watch whatever you want. And when you need toilet paper, you can always count on Prime Now to have it to you in no time. The only thing Amazon has been missing is selection of adult beverages, that is, until now. Amazon is delivering alcohol to select cities and this will totally change the way you wine down.
Yep, you read that right, Amazon is now testing the delivery of adult beverages that promises to get you your rosé in an hour. In other words, this means you never have to put on pants to get yourself a bottle again. Amazon is testing this handy new service in 12 different cities across the U.S. and hopefully looking to expand very soon. Check if your city made the cut:
Cincinnati, Ohio
Chicago, Illinois
Columbus, Ohio
Los Angeles, California
Minneapolis, Minnesota
New York City, New York
Phoenix. Arizona
Portland, Oregon
Richmond, Virginia
San Diego, California
San Francisco Bay Area, California
Seattle, Washington
If you find yourself in one of the lucky 12 cities, you can get your wine in two hours with no delivery charge, and in one hour with an eight dollar delivery charge. Some cities even offer a wide range of adult beverages including beers and spirits, depending on your location.
Am I the only one who is totally hyped about this? Now, when I run out of wine, I don't have to go to the grocery store and make a long line for one bottle. I can just have it delivered right to my doorstep. Perfect.