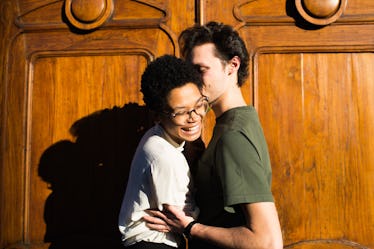 7 Relationship Goals For 2019, Because You Deserve Nothing But The Very Best
If you're sitting squarely in the category of 'new year, same boo' consider attempting to achieve a few new relationship goals for 2019. There's always room for improvement when it comes to areas of your life — and your love life is no exception. Trying to achieve a new goal with your partner could bring you even closer together.
There are admittedly quite a few nay-sayers when it comes to New Year's resolutions. Many even argue that they don't really work at all. However, the University of Scranton conducted a series of studies on folks that committed to goals for the new year, and the results were really impressive. First, 46 percent of people that committed to their resolutions were successful which is, like, a lot of people! The other portion of the study assessed folks who identified a problem in their lives that they wished to solve but didn't make detailed resolutions or plans towards solving them. Out of those, only four percent of the "non-resolvers" ended up changing their behavior. It goes to show that some intentional planning at the start of your year could really set you up for success later on.
So why not introduce this into your love life? No matter what stage you're at in your relationship, you can identify achievable resolutions for a happier, more fulfilling partnership. The following goals for 2019 can be personal resolutions for your dating life or resolutions that you and your partner plan together. If you're interested in adding some relationship goals to your calendar in 2019, consider the following tips!