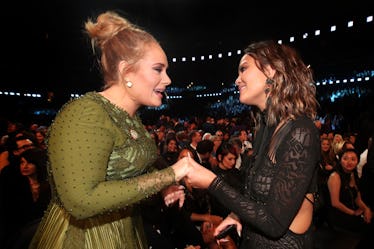 7 Pieces Of Breakup Advice From Celebrities, Because *Everyone* Has Been There
Christopher Polk/Getty Images Entertainment/Getty Images
Empty cups and dirty wine glasses line your floor between the scattered remnants of packing material from an impromptu #selfcare Lush shopping spree. A $30 soy candle with your astrology sign on it burns in the background as you cycle between re-downloading and deleting Tinder, Postmate coffee to your house, and debate filling in your eyebrows more or moving to Uruguay. There are many stages of a relationship ending and trust me — we've all been there. Perhaps that's why hearing breakup advice from celebrities can be a sort of light at the end of that 2011 Adele-themed tunnel. Because apart from the glamour squads and red carpet events — even celebrities deal with heartbreak, transition, and moving on from love — and they do so with lights and cameras in their pre-Facetuned faces.
Although your personal healing may change based on how long you dated your ex or how painful the breakup was, there are often some universal steps when it comes to recovering from heartbreak — like taking lots of baths, debating major hair changes, and eventually listening to "Freakum Dress" until you feel ready to put on a pair of pants with a fly.
Here's some amazing breakup advice from celebrities who have been through it all.