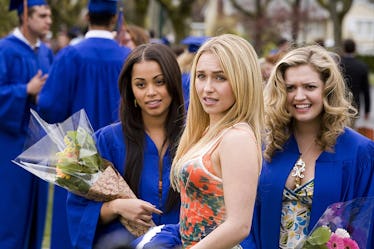 Watch These 7 Movies About Graduating & Try Not To Cry
Fox Atomic
There are few moments as bittersweet at graduation. Getting older and moving to the next stage of life is amazing, but at the same time, it's so hard to leave your best friends and the safety net of school. Let's face it, the real world is tough. To help you prepare for the inevitable cry-fest (because no matter how you feel about graduating, there will be some tears), why not watch some of the world's most iconic movies about graduation? Sure, these films may make you cry even more, but when all is said and done, it will feel pretty damn cathartic. Plus, it's not like you have anything else to do now that classes are officially over.
If you're trying to get your graduation marathon in before the real world hits, you're in luck. Graduation is basically an Oscar-ready topic; filmmakers have been making movies about characters coming of age for decades. Some of these movies are about college and some are about high school graduation, but I guarantee you that every single one of them will give you all the feels about walking across that stage. Or at the very least, these seven movies will give you something to watch while you're decorating your graduation cap.
1. Legally Blonde
It's impossible to not mention Legally Blonde when talking about graduation movies. Legally Blonde features not one, but two graduations: It starts with Elle Woods (Reese Witherspoon) finishing her underground and culminates with her graduation from law school. Sure, Elle probably doesn't go to law school for the right reasons (trying to win back Warner instead of actually wanting to be a lawyer), but by the end, she realizes that she was born to expose people's fashion-related lies in the court of law. Legally Blonde may not be the most emotional of all graduation movies, but if you don't tear up at least a little when Elle addresses her Harvard Law peers, then you can take your pink, scented paper elsewhere.
Legally Blonde is streaming on Netflix.
2. Adventureland
Adventureland has everything: a pre-Social Network Jesse Eisenberg, a dilapidated amusement park, and an angsty Kristin Stewart. Eisenberg stars as James, a college grad who gets a summer job at a run-down amusement park to pay for grad school. At Adventureland he meets Em (Stewart), his loose cannon co-worker, and the two quickly become friends. Part love story, part what-the-hell-do-I-do-after-college story, Adventureland is the perfect movie to watch when you feel like everyone except for you has their sh*t together.
Adventureland is available on Amazon Prime Video.
3. 10 Things I Hate About You
Name a more iconic high school graduation film. I'll wait. If you haven't seen 10 Things I Hate About You, stop what you're doing and watch it ASAP. The movie follows two totally different sisters (Julia Stiles' Kat and Larisa Oleynik's Bianca) as they navigate the difficult waters of high school and begin dating very different guys (Heath Ledger's Patrick and Joseph Gordon-Levitt's Patrick). Older sister Kat is desperate to get away and go to Sarah Lawrence College, but her dad refuses, creating some serious tension as senior prom and graduation approaches. 10 Things I Hate About You is an adaptation of Shakespeare's The Taming of the Shrew, so you can totally justify watching it for the hundredth time by saying that it has educational value.
10 Things I Hate About You is streaming on Disney+.
4. Booksmart
Booksmart is one of the most iconic modern movies about graduation, no cap. Starring Beanie Feldstein and Kaitlyn Dever, the comedy follows a pair of besties on the night before their high school graduation, which turns into an epic, heartfelt adventure. If you're gearing up for one last hurrah (or wishing you had one back in the day), let this movie be your guide.
Booksmart is streaming on Hulu.
5. Crossroads
Let's lighten things up a bit. Remember Britney Spears' 2002 movie Crossroads? It's actually a great graduation movie that will remind you just how important your friends are. Spears stars as Lucy, an 18-year-old who digs up an old wish box with her childhood friends Mimi (Taryn Manning) and Kit (Zoe Saldana) on graduation night. The three friends realize that the best way to achieve those wishes is to set out on a cross-country road trip, in which they each learn a little about themselves and their friendship along the way. No matter how you're feeling about your graduation journey, Crossroads will give you serious feels about what it's like to separate from the people you've relied on for so many years.
Crossroads is available on Amazon Prime Video.
6. Dude
High school graduation is exciting for a lot of reasons, like more freedom and no more icky cafeteria lunches. But it also represents the ending of a huge phase of your life. In Netflix's 2018 film Dude, four besties come to terms with what graduation means for themselves as individuals and as a group. Starring Lucy Hale, Awkwafina, Alexandra Shipp, and Kathryn Prescott, the film will remind you why high school friendships are so special.
Dude is streaming on Netflix.
7. I Love You, Beth Cooper
The 2009 movie I Love You, Beth Cooper premiered right in the middle of Hayden Panettiere's glory days. During his high school graduation speech, valedictorian Denis (Paul Rust) professes his love to head cheerleader Beth Cooper (Panettiere), and even though Beth is floored that the geeky Denis likes her, she and her popular friends show up to his house for a party that night. The entire movie takes place on the night of graduation, and as the night progresses, Beth realizes that Denis is actually a great guy who deserves her attention. I Love You, Beth Cooper is a pretty classic rom-com, but the hilarious jokes and great cast make it much better than your average teen movie. Plus, if you're giving a graduation speech, I Love You, Beth Cooper will make you feel totally confident that yours can't possibly be worse than Denis'.
I Love You, Beth Cooper is available on Amazon Prime Video.
This article was originally published on