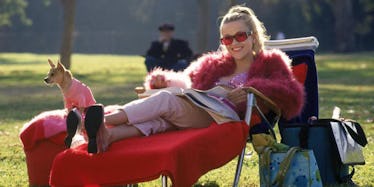 Which Legally Blonde Character You Are, According To Your Zodiac Sign
MGM
It's hard not to aspire to be Legally Blonde's Elle Woods, but we can't all be as poised and intelligent as the brilliant Harvard Law graduate. We can always channel our inner Elle by sporting a pink power suit or utilizing the Bend and Snap, but deep down, there are probably other characters from the 2001 hit movie that each person relates to even more. It's definitely difficult to separate yourself from that ideal vision of being Elle, so which Legally Blonde character are you according to your Zodiac sign?
We all know that Elle Woods (and Bruiser, of course) is a proud Gemini vegetarian, but what about those other characters? No one exactly looks up to Professor Callahan or Warner for inspiration, but like it or not, we can even relate to these slightly villainous characters and their multitudes. Meanwhile, IMO, we should all look toward underappreciated figures like Professor Stromwell or David Kidney for guidance on how to live our best lives. But, y'know, don't feel pressured to go deworm orphans in Somalia or anything like that.
So far, 2020's Legally Blonde 3 only has Reese Witherspoon officially tied to it, but hopefully we'll see plenty of our favorite original characters in the new film. Until then, I'll try to emulate as many characters as possible in celebration of the movie news. Read on to figure out which character you resemble most based on your Zodiac sign.