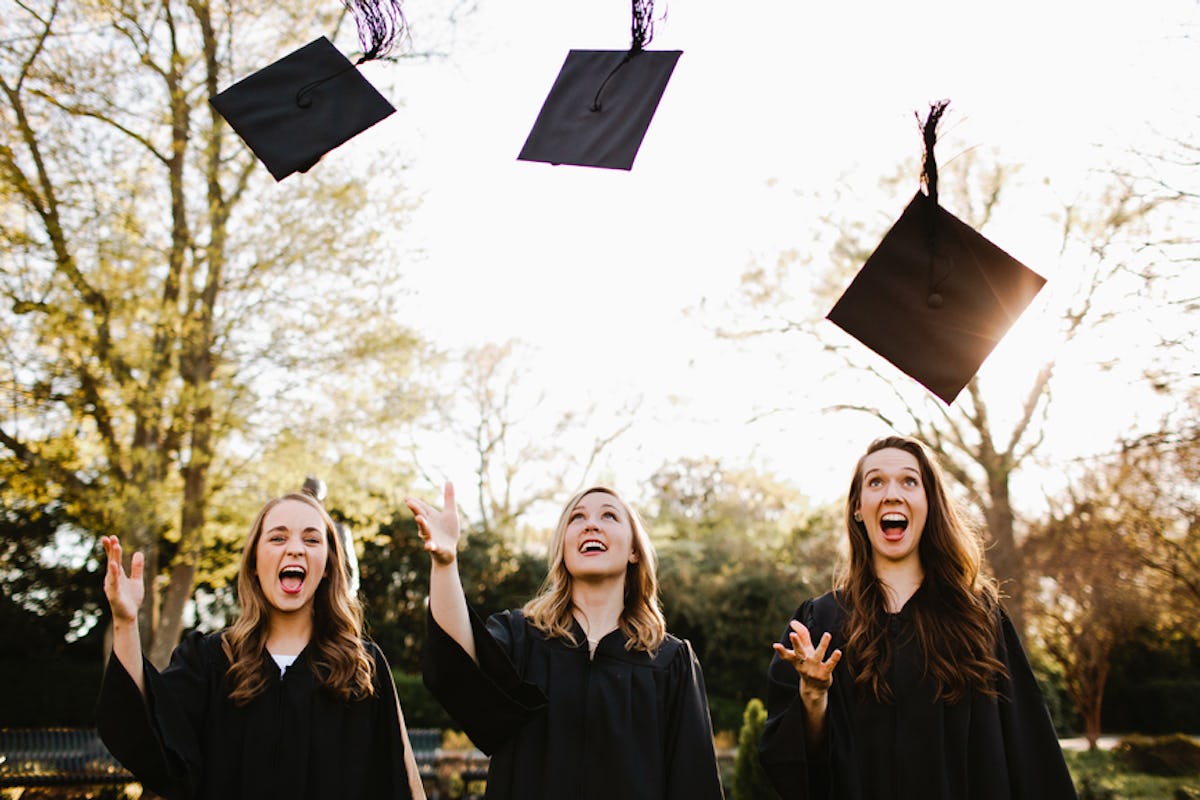 29 Extremely Bittersweet Captions For Your Graduation Cap Picture
It's been four, five, six (or more, whatever it takes!) years, and you've finally arrived. It's the day when you get to walk across that stage, grab that faux diploma, and prove to everyone that you really did it. Seriously, even though a lot of us do go to college, it's an accomplishment. You're supposed to bask in your own glory, at least for a little bit. Your graduation day is bittersweet. You're surrounded by the people you love, who have cheered you on for yours years of schooling. You're surrounded by your also-graduating college besties, and you've got so much pride in you that you just might burst. But also, deep inside, you're thinking, "It's over? Just like that?" I feel that, seriously. That's why you're going to need some bittersweet captions for your graduation cap picture.
Between the pics with your squad, the solo plandid shots popping your bottle of champagne, and the fam pics with mom, dad, grandma, and grandpa, you're going to need some seriously spot-on captions. They've got to capture all those grad day feels: happiness, relief, and a little bit of sadness. Whatever the mood, these 29 captions have got you covered. All you've got to worry about is not tripping when you walk across the stage, got it?
1. "And so the adventure begins." — Unknown
2. "Behind you, all your memories. Before you, all your dreams. Around you, all who love you Within you, all you need." — Unknown
3. "What feels like the end is often the beginning." — Unknown
4. "And this is the part where you find out where you are." — The Maine
5. "This is the beginning, of anything you want." — Boy
6. "Isn't it funny, day by day, nothing changes, but when you look back, everything is different." — C.S. Lewis
7. "What lies behind us and lies before us are small matters compared to what lies within us." — Ralph Waldo Emerson
8. "What she tackles, she conquers." — Gilmore Girls
9. "I can and I will." — Gina Rodriguez
10. "We didn't realize we were making memories. We just thought we were having fun." — Winnie the Pooh
11. "And off she went to change the world." — Unknown
12. "Go forth and set the word on fire." — St. Ignatius of Loyola
13. "She believe she could, so she did." — R.S. Grey
14. "Nothing can dim the light that shines from within." — Maya Angelou
15. "Every accomplishment starts with the decision to try." — Gail Denvers
16. "It always seems impossible until its done." — Nelson Mandela
17. "The future belongs to those who believe in the beauty of their dreams." — Eleanor Roosevelt
18. "I didn't come this far to only come this far." — Unknown
19. "The best view comes after the hardest climb." — Unknown
20. "It takes courage to grow up and become who you really are." — E.E. Cummings
21. "Whatever you do, do it well." — Walt Disney
22. "It's been one blur of fun." —Lilly Pulitzer
23. "Be fearless in the pursuit of what sets your soul on fire." — Jeniffer Lee
24. "Carpe the hell out of this diem." — Alexandra Bracken
25. "The best way to predict the future is to create it." — Unknown
26. "We must accept the end of something in order to begin to build something new." — Unknown
27. "I don't know where I'm going but I'm on my way." — Carl Sandburg
28. "Isn't it amazing, what clever girls can do?" — Peter Pan
29. "A well read woman is a dangerous creature." — Lisa Kleypas