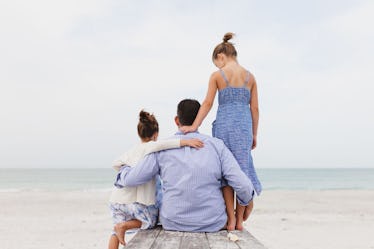 7 Lessons Only Your Dad Could Ever Teach You In Your 20s
Thank goodness for dads. I don't know about you, but mine is like my best friend. He's the one who would put my hair in a ponytail before summer camp, and picked me up from pre-school back in the day. He tells jokes like it's his job, and never fails to update me on the latest Game of Thrones theories. Oh yes — dad is the real MVP, because he's quite the character and has been there since day one. There are a few lessons your dad teaches you in your 20s that you should really never forget, no matter how old you get.
As a kid, he likely taught you how to ride your bike, or suggested that you start dipping your Oreos in a glass of milk. Don't get me wrong, you will never leave those lessons behind in life, either. But now that you're a bit more grown, you probably look to Dad for advice on the things you're facing in the real world.
You may ask him how to start a business, or what beer is best to try at the brewery. You'll get his two cents on the latest argument you had with your sibling, and always look up to him when it comes to handling your relationships. No matter how many besties you have in your life, he'll always be the best shoulder to cry on. Truth is, he's been your rock, and these seven lessons you're likely learning from him right now.