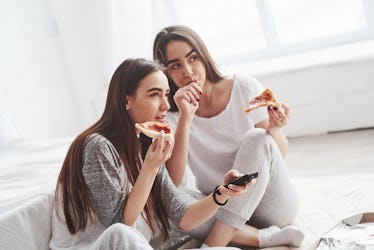 7 Last-Minute Experiences To Give Your Sis That Don't Cost A Thing
Shutterstock
When it comes to getting presents for the ones you love, your time (and wallet) may be running out. There are only a few nights left when you can run to the mall and purchase the sneakers your brother put on his wishlist, or find a hilarious book to give to your dad. Do yourself a favor and opt for one of these last-minute experience gifts for your sister, in particular. They don't cost a thing, but are still filled with so much love.
To be honest, a gift that's picked out with love and thoughtfulness is the best kind of gift. It shows your people that you pay attention to what matters most to them, whatever that may be. It shows you were totally listening to their wild stories, work-related rants, and huge dreams for the future within the past year, too. These kinds of experience gifts are also really unexpected, and always cue the greatest reactions or a cheery, "Surprise!"
For example, when your sis unwraps a gift that's tied to an inside joke you had when you were kids or one of her goals for the new year, she's going to have all the heart eyes. She'll probably reach across the room and give you a gigantic hug. Here are seven last-minute experience gifts to get you started.