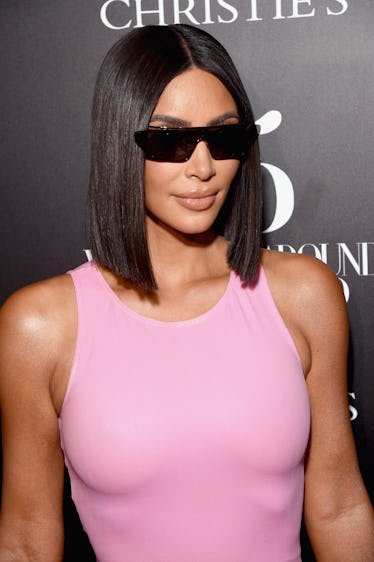 7 Kim Kardashian Costume Ideas That'll Have You Looking Flawless This Halloween
Michael Kovac/Getty Images Entertainment/Getty Images
Is there anyone who likes Halloween more than Kim Kardashian? I mean, the Keeping Up With The Kardashian star goes all out when it comes to dressing up. Some of her past costumes have been seriously epic. She's been comic book queens like Catwoman, Wonder Woman, and Poison Ivy; musical icons like Cher and Selena; and Disney stars like Snow White and Jasmine. She even rocked a shell bra for her turn as a mermaid back in 2012. Obviously, there's lots of choose from here, so thanks for all the inspo, Keeks! But TBH, the best costume idea for Halloween this year would be dressing up as Kardashian herself. Because the reality star has given us so many iconic looks during the last 365 days that you really can't go wrong. Here are some Kim Kardashian 2018 costume ideas that'll have you racking up the Insta likes on Oct. 31.
Meme Kim
Remember Kim's awkward Yeezy photo shoot that went viral over the summer? I mean, who could forget it, right? Keeks shared this seriously bizarre photo of herself reclining on a bed in a totally uncomfortable-looking position with a pair of Butter Yeezys on her feet and a blank look on her face:
... and the internet took over from there. Twitter users composed hilarious memes of bed-sprawl Kardashian playing Twister, volleyball, and crossing the finish line of a marathon in this weird pose. So yeah, I think this would make a hilarious Halloween costume — and it's a super easy one to DIY, too. All you need is an olive green or gray sports bra and matching bottom, and this set from J. Crew perfectly fits the bill.
1989 Scoopneck Bikini Top, $54, J. Crew
1989 High-Leg Bikini Bottom, $45, J. Crew
Then just punctuate your outfit with a pair of Butter Yeezys. If you happen to have a pair of these babies lying around, you're golden. And if not, go cop some fake ones over on Amazon.
Extraterrestrial Kim
The neon green hair Kim Kardashian rocked in Miami is a total vibe, and I think this futuristic alien look would make a killer costume because it's just so extra(terrestrial).
Obviously, recreating this look is all about the wig. There are a whole bunch of cool options on Amazon, but this one is my fave:
32'' Women's Cosplay Wig, $11.99, Amazon
As for the dress, I think this holo version is out of this world. And yes, that's an alien reference. Just go with it, OK?
Silver Holographic Tank Dress, $39.99, Coquetry Clothing
Sorry dolls, but when it comes to Kim's matching green Lambo — you're on your own.
Contour Kim
What can I say? I'm loving the "lioness" look of this shot from the launch of Kim's KKW beauty line. And it's ridiculously easy to duplicate, since all you need is a stick of concealer, a white tank top, and a killer duck face.
If you want to be totally authentic, you can use one of Kim's $18 KKW liquid concealers:
Liquid Concealer, $18, KKW Beauty
But feel free to use one you've already got at home, or cop a less expensive version from a brand like Cover Girl over on Amazon.
Cover Girl Invisible Concealer, $11.71 for a pack of 2, Amazon
Yeezy Season 6 "Kim"
OK, so this isn't actually Kardashian — it's Paris Hilton dressed up as Kardashian in a promo for Yeezy Season 6. But that only makes this costume all the more epic. And all it takes to pull off this look is a pair of gray sweats, boots, platinum silver hair, and a red lollipop.
You could shell out $300 for an actual pair of Yeezy sweats in gravel:
Women's Sweatpants, $300, Yeezy Supply
Or you could score a cheaper pair over on Amazon for around $18.
To Be In Style Womens French Jogger, $17.25, Amazon
Top off your sweats with Yeezy's knit strip bra in glacier if you're a baller (it's $300, you guys!) or check out this sports bra I found on Amazon that's only $9.99.
Queenie Ke Double-T Sports Bra, $9.99, Amazon
Add a scrunchy pair of ankle boots, grab a red lolly, and hit the streets because you're camera ready.
Chinese Laundry Women's Wiz, $59, Amazon
Kimoji Kim
And finally, here's a great group costume idea for you and your girl squad. Because Kim's Valentine's Day fragrance launch was epic — remember how she sent special press kits to all of her haters? — and her three scents would make a bomb costume idea for you and your crew.
The trio of looks — Ride or Die, Bae, BFF — are super easy to duplicate, and just need to be accessorized with heart-shaped cut-outs with the name of each scent written in red block letters.
For Ride or Die, think lavender separates:
This bandeau from EK Fashion is a pretty good option:
Bandeau Bra Tube Top, $10, EK Fashion
Then scoop up this great matching skirt:
Pencil You In Pencil Skirt, $34 Lulus.
Finish off the look with a pair of strappy shoes. I'm in love with these platforms from Totally Wicked Footwear that will make your legs look a mile long!
Strappy Lace Up Platform Sandal, $69.95, Totally Wicked Footwear
For "Bae," it's all about the blues.
These bike shorts from Pretty Little Thing are only $15 and they're pretty much identical to Kimmy's.
SLINKY LONGLINE BIKE SHORT, $15, Pretty Little Thing
Ditto for this $4 bra top — a total steal!
RIB STRAPPY BACK BRALET, $4, Pretty Little Thing
A slip dress in a pale shade of pink is pretty much you need to pull off Kim's "BFF" look.
This satin dress from ASOS is a pretty close match, dontcha think? It looks pretty comfy, too.
Miss Selfridge satin slip dress, $45, ASOS
If you want to be really extra you can accessorize each look with a mallet. Then get out there and crush it, you freaking heartbreaker, you!