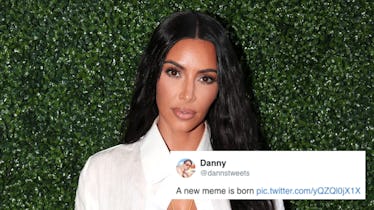 Kim Kardashian Is Getting Trolled So Hard On Twitter Because Of This Creepy AF Photo
Christopher Polk/Getty Images Entertainment/Getty Images
Some days, the internet is particularly generous and today is one of those days. Kim Kardashian recently shared a #YeezyAd sporting some new sneakers for her husband's fashion line, but the photo is honestly so much more than that. It's perhaps one of her most meme-able pics ever and Twitter is having a field day. The memes of Kim Kardashian's Yeezy ad are equal parts hilarious and unsettling because she looks so much like a doll or wax figure in the photo. Truly, nothing about it is natural. Sure, we're used to Kim posing in Yeezy-garb and trying to play it off like it's her casual everyday-wear, but we're calling your bluff on this one, Kim.
Before scrolling down, just picture this in your brain. It's Kim Kardashian, but less alive. She's laying on a bed with her arms and legs bent at 90-degree angles. Her hair is...I don't know... dare I say frizzy? Her skin is matte. Her face is expressionless (like, dead). She's in an army green bikini or bra/underwear set, and she's wearing puffy sneakers. Yes, puffy. To Kim, the image warrants the caption, "Like butter." That's probably because the particular sneaker she's wearing is called the Butter 350, but still.
Have an image in your mind? Ready? Now scroll down.
*
*
*
Is this what you were imagining?
Like... butter...
Twitter obviously couldn't leave it alone. Many people made the same joke saying she looks like the toys from Toy Story when Andy or a human walks into the room. Others photoshopped her into hilarious situations. Lots of people just laughed. I agree with the person who simply wrote "dead," mostly because I died from laughing, but also because she does appear very lifeless.
I did a little research and you can buy the Yeezy 350's butter kicks for $270 on Kanye West's GOAT.com site. (I know, say that ten times fast.) They are part of his "boost" collection which seems to distinguish itself by the puffy rubber sole on the sneakers. This how the website describes the product:
The minimalist silhouette features distinct center stitching on a reverse Primeknit upper, with the signature 'SPLY-350' inscription now printed on the interior side. The heel tab remains, finished in a bright yellow hue that matches the knitted upper, rope laces, and Boost-infused midsole.
I would personally describe them as appearing "slightly worn and perhaps washed with mismatched colors in an industrial washing machine," but I'm also not the Greatest Of All Time nor a multimillion-dollar celebrity. So, I literally know nothing.
I'm not here to rain on Kim's sneaker parade, I'm just here to say the general public is hilarious with their commentary. If Kim feels her lifestyle calls for semi-orthopedic shoes, minimal clothing, and no smiles, then so be it. I'm not the one that makes money off of #ads or people following my every move, so...
Check out the entire Gen Why series and other videos on Facebook and the Bustle app across Apple TV, Roku, and Amazon Fire TV.