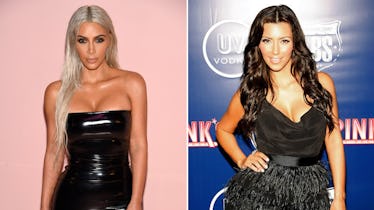 Here's How Much Kim Kardashian's Style Has Changed Over The Last 10 Years
Dimitrios Kambouris & Ethan Miller/Getty Images Entertainment/Getty Images
Do you guys ever do that thing where you're looking at a piece of clothing and you know it isn't cool, doesn't look good on you, or doesn't make any sense, but you start to think, "Wait a second, is this trendy?" I call that the Kim Kardashian effect. The girl has been making unusual clothing/fabric/patterns/cuts/you name it fashionable as long as she's been in the public eye, and it's been an absolute pleasure watching her evolve. Kim Kardashian's style has dramatically changed over the years, and fortunately, the media has documented every chapter.
Now, I know you guys know what I'm talking about. If I say the words "sweatpants," "latex," "contour," "glam," "blonde," and "butt," it might seem like they don't have anything innately in common, but a super fan would likely be reminded of Kim Kardashian's style. That's because when Keeks commits to something, she commits hard, and her fans can't get enough of it. She's become a self-branding mastermind, successfully shifting and adapting her vibe and look to match the changes in her own life.
Maybe you haven't thought about it or said it out loud to yourself, but now that I mention it, you know I'm right. Right?
That's just the latest step in her evolution. Here's a look back at some of my other favorite chapters in Kim Kardashian's fashion life.
Glam Baby
This is when Kim had a "more is more" attitude. She was like, "Give me the voluminous curls. Give me the fake eyelashes. Give me the cropped leather shirt. Give me the studded belt. Give me the chrome purse. Give me the poofy mini-skirt. OK, NOW WE'RE TALKING." This look was circa 2009, when the world was just getting familiar with her and her family.
Ponytail Queen
Please tell me you remember this phase. Though it's specifically Kim sporting the slicked-back ponytail in this picture, it was an overall Kardashian staple for a long time. The key details were that her hair was pulled so, so, SO tight, and the ponytail was as long as a literal pony's actual tail. You knew you were doing this hairstyle right if you couldn't wrinkle your forehead.
Bodycon Beauty
Dear lord, the bandage and bodycon dresses. Kardashian looks so stunning in this curve-hugging silhouette, and she made women everywhere want to give the trend a try, too. Sure, it's very difficult to get one these dresses over your head, but "HELLO, HONEY!" once it's on!
Latex Lady
What a time to be alive. One day, everyone was living a normal life, and the next day, Kim Kardashian made plastic a fashion fabric. She and her sisters all took turns rocking the shiny shrink-wrapped look, and I'm still waiting for Target to make a knock-off available to the public.
Laid-Back Goddess
Somewhere along the way, Kardashian swapped her loud and proud looks for a paired down, simplistic vibe. A lot of it had to do with her marrying Kanye West, who Kim openly admitted gave her style a massive overhaul. In a video clip that has since been removed from YouTube, Kim Kardashian visited Kelly Ripa and Michael Strahan on their talk-show and explained,
When we [Kim and Kanye] first started dating, he went through my closet and he had a stylist come in and they put everything he thought wasn't cool enough in a pile. I walked in and it was like a pile to the ceiling of shoes, all my amazing shoes that I loved. I started crying.
Around 2015-2016, she took a serious turn into neutrals and nixed the gaudy jewelry.
Yeezy Wifey
Ah yes, the ~*~*Pablo*~*~ swag. Here, Kardashian is rocking some braids and a high-cut, white bikini while repping her husband's brand. During the Saint Pablo tour, all of the Kardashian sisters were known to throw a Pablo sweatshirt over some knee high-boots or leggings and wear them like they were vintage coats.
Contour Icon
Sure, contour makeup isn't clothing, but it might as well be when we're talking about Kim Kardashian. She certainly wears it like it is. With the launch of her beauty brand, KKW Beauty, Kardashian revolutionized the makeup technique. Contour involves layering deep and light colors of foundation in specific places on your face in order to minimize or maximize certain features. It's, like, all the rage right now, and very specifically Kim's "thing."
Sweatpants Mama
Back to the Yeezy collection. Right now, Kardashian is all about the crop-top/sweatpants/high-heel combo. West's fashion line, Yeezy Supply, mixes comfortable styles with neutral tones, and layers them in unique and unexpected ways. Apparently, they are also specifically designed for his wife.
Smoldering Vixen
Kardashian has been blowing up her Instagram with smoldering images, skimpy clothing, and mood lighting, and I am here for it. This is the latest and most fabulous version of Kardashian, but let's not get comfortable. I know the second I get familiar with the whole smokey eye, sparkly choker, and itty-bitty bikini look, she'll turn around and switch it up entirely.
That's the magic of Kim. My guess is the next thing she's going to bring back is mesh, neon, and jelly sandals. But, maybe that's just wishful thinking.
Check out the entire Gen Why series and other videos on Facebook and the Bustle app across Apple TV, Roku, and Amazon Fire TV.