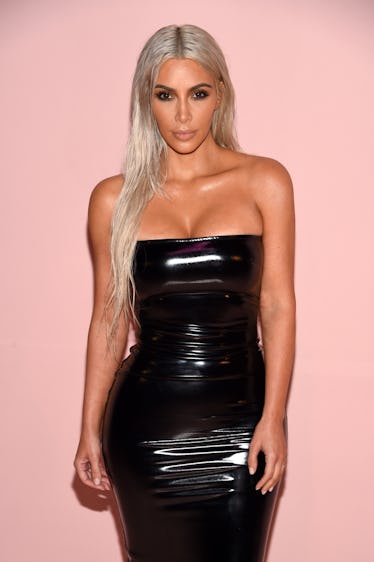 Kim Kardashian Posed Topless In A Bedazzled Thong & It's Extra In The Best Way
Dimitrios Kambouris/Getty Images Entertainment/Getty Images
May we all one day experience the sheer confidence and enthusiasm as Kim Kardashian in a bedazzled thong. I imagine it must be a wonderful feeling. The mother of three is celebrating life, beauty, and her impressive abs in a seriously extra topless photo on Instagram, and guess what? I'm HERE for it. Give me an extreme Kim Kardashian photo shoot any day. She looks amazing, and I'm weirdly gaining confidence and strength from her sparkly undies. (That's not too much, is it?)
Just one week after her daughter Chicago was born, Kardashian snapped the sexy picture to share with all of her fans. She's clearly on a mission to prove motherhood doesn't mean you have to start wearing mom jeans and get a bob haircut. On the contrary, you can put on sparkly panties, take off your top, snap a photo, and spread it to millions of followers if you freaking feel like it. Kardashian simply captioned the photo with a camera emoji, because sometimes less is more, know what I mean?
Fans have no idea what bathroom she's in, where the underwear came from, or even what it's made out of. All we know is Kardashian looks fierce AF. Her sister Khloé is just as enthusiastic as I am, and commented, "Show it off!!!! I'm here for it!!!!" So far, over 2 million followers agree.
Fair warning, this is not safe for work.
I think my favorite part of the whole thing is that her iPhone has the crying Kimoji face stuck on it.
Hilarious. Genius. Inspiring.
This is hardly the first time Kardashian's posted a topless selfie, having once endured a huge amount of backlash for sharing a censored image way back in March of 2016. The public was disproportionately outraged by her public display of nudity, but the reality TV star took it all in stride.
She famously captioned that photo, "When you're like I have nothing to wear LOL."
She then turned the image into a Kimoji, of course.
Kardashian also delivered a famous five-word thank you speech at the 2016 Webby Awards when she took home the first ever Break The Internet award. She very casually said, "Nude selfies 'til I die."
It was iconic.
She also told Kara Swisher of the Recode Decode podcast that she didn't understand what the big deal was about her famous Paper magazine shoot, which originally "broke the internet." She said,
I truly was baffled that people still cared, some people were outraged because I am a mom. Some people were so supportive. I just think it looks good, I am really not trying to cause a reaction… They have seen me naked 500 times!... My personality has never been, 'I'm such a feminist and follow me and be naked.'
It's true. As much as she totally is famous for her selfies and photos, she's also famous for being an incredible mother, businesswoman, sister, and social media expert. She is constantly fighting back against the old-school notion that women can only be labeled as one of these things and not equal parts of all of them.
Kardashian and her sisters have somehow kept our attention for more than a decade, and we've watched as Kim seamlessly transitioned from Paris Hilton's assistant to arguably the most famous and successful woman on earth. If a few glittery panties showed up along the way, great. I mean, who doesn't love a little sparkle?
Thanks for the inspiration boost, Kim. I assume you didn't pick that underwear up at Target? Call me with the deets.
Check out the entire Gen Why series and other videos on Facebook and the Bustle app across Apple TV, Roku, and Amazon Fire TV.