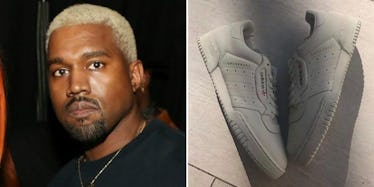 Twitter Is Trolling Kanye West Because His New Yeezys Look Like '80s Reeboks
REX/Shutterstock/Instagram
Suspicious fans are questioning Kanye West's fashion design skills after Kim Kardashian shared a sneak peek of his new Yeezy sneaker that looks a lot like an old pair of Reeboks.
The 39-year-old rapper is constantly claiming to be the world's most misunderstood "creative genius," yet his latest offering, the Yeezy "Powerphase" in collaboration with Adidas, looks like a pair of 1980s Reebok Classics.
As you probably already expected, the brutally honest internet did not hesitate to call West out after Kim gave fans a peek at the new gear.
On Wednesday, Kim Kardashian gave fans a first look at the new Yeezy "Powerphase" sneakers from Adidas.
Oddly enough, they look exactly like Reebok Classics from the '80s.
Um, 'Ye, you've got some explaining to do...
It didn't take long before Twitter noticed.
Did he really think we weren't going to realize?!
Maybe there is an explanation for Kanye's copycat kicks, though. But it might have more to do with Adidas than Kanye.
Adidas acquired Reebok back in 2005 for $3.8 billion.
Could Kanye be trying to help revive Reebok just like he revived Adidas after Nike's lengthy reign?
Let's take a closer look...
It sure seems like it (but it doesn't make sense because they're NOT actual Reeboks).
Despite how similar Kanye's new sneakers look to old Reeboks, there's one thing we know for sure -- people will STILL buy them.
Kanye West's Yeezy brand is quickly transforming into the Apple of the sneaker world.
No matter how many times he shoves the same product in your face time and time again, there will always be lines wrapping around the block as "stans" eagerly try to get their hands on his latest swag.
IT'S FOR THE KIDS!
Perhaps this was just a stunt to test exactly how influential Kanye is these days. Something tells me this just inflated his ego just a tad bit more.
All jokes aside, I just have one question for you, Kanye... WHAT ARE THOSE?!?!
As of now, there is no confirmed release date for the new Yeezys, but they're expected to cost only $120, according to Sneaker News.
Citations: Yeezy's Latest Shoe Is Getting Dragged On Twitter For Looking Like A 1980s Pair Of Reeboks (BroBible)