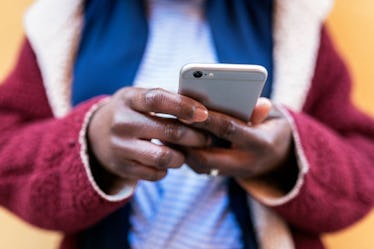 7 Intentions To Set Before Texting Your Crush Out Of The Blue, Because It's Scary
So, let's say you've got a major crush, and you're trying to turn it into something more. You've been telling your friends all about him or her, Instagram stalking with abandon, and imagining scenarios where you're happily in love. It's fun to feel those butterflies in your stomach when you're developing feelings for someone new. But when you're ready to make things happen for real, you might want to set some intentions when texting your crush out of the blue.
Typing up that message and gathering the courage to hit send is terrifying. Trust me, I've been there. I know the feeling of sending a text and then obsessively checking my phone every two seconds to see if their typing bubble has appeared. It's enough to give anyone a stress headache, so it's smart to be prepared before you take that leap. When you're ready to text your crush to ask them to hang out, or maybe even to confess your feelings, keep in mind that you're going to be OK no matter their response. You should be proud of yourself for going out on a limb, and you should consider it a win no matter what. Before you work with your bestie to craft that perfect text, read through these intentions to remind yourself that you're a total boss.