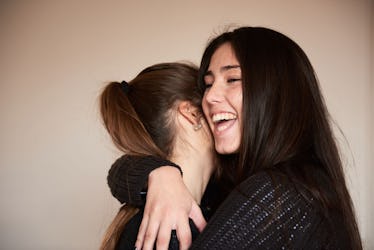 6 Soothing Mantras That Remind You How Deeply You Are Loved
You guys, love is wonderful. Call me a romantic, but there's just nothing like being surrounded by people who care deeply about you — it can warm even the loneliest corners of your soul. Whether it's romantic love, familial love, self-love, you name it, it's pretty much the best feeling in the world. And a little positive self-talk makes everything even better. Read on for some mantras about love to remind you how much you deserve this affection.
Even when you have people in your life telling you they love you, it never hurts to have little sayings on hand to remind yourself of this. Especially when life gets stressful and you're feeling down on yourself, it's great to whip out some reminders of how cherished you are. After all, the people who love you would certainly want you to feel it all the time! I know when I'm having a tough day, there's nothing sweeter than picturing the people I care about and remembering how much they mean to me (and vice versa). It can make even the rainiest days feel just a bit more sunny and bearable. No matter the occasion, you deserve to feel surrounded with love and joy, so remember how valuable you are!