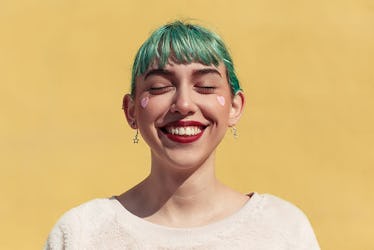 8 Mantras To Recite If You're Happily In Love & Can't Stop Seeing Hearts
Finding love is a process that can take a ton of time, effort, and patience. Once you've found that special someone, reciting mantras centered around love and gratitude is a great way to reinforce your appreciation for having found such a wonderful bae. When you're riding high on a love wave, taking the time to fully bathe in the bliss is so important. Mantras to recite if you're happily in love can include just about any words of inspiration and positivity that speak to you. Channeling the good vibes can also help solidify all of the amazing energy that a new partner brings to your life.
Even the happiest of relationships go through their trials and tribulations, but enjoying the good times as much as possible can make the bad times feel a bit more manageable. If you've never tried reciting mantras during meditation, there are a ton of benefits in doing so. According to DoYouYoga, using mantras in meditative practices is an effective way to reduce distracting mental chatter and help with focus. "Meditating with mantras is one of the most powerful ways to quiet the fluctuations of the mind," wrote Aimee Hughes. "A mantra is a tool for the mind, and it allows our awareness to more easily turn inward." So, here are eight awesome, love-appreciation mantras to get you started.