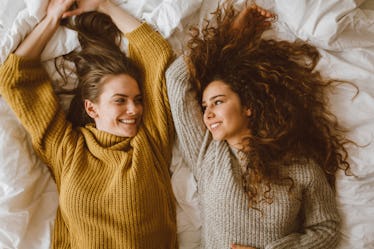 7 Gifts You Should Buy For Your Bestie's Birthday If She Loves The Lazy Life
Dejan Ristovski/Stocksy
There's nothing quite better than spending a lazy day snuggled up in blankets. Sure, when the semester is in full swing, these days are hard to come by. But, for our laziest friend, no schedule will stop her from living this daydream. Her birthday is right around the corner, and you've planned everything but her present. What do you get someone who just loves to sleep? Truth is, the best gifts for lazy friends will make their lives even easier and speak to their chill lifestyle.
She's the one who gets ready in 10 minutes flat, and is incredibly low-maintenance. She's always down to stay in on a Saturday night, and she's perfected the effortless style. Her messy bun and just a bit of mascara have become her look over the years.
For your lazy bestie's birthday, you might be having a movie marathon instead of a big bash. The party should match the person, and you know she'd want something low-key and cozy. Maybe you planned a surprise sleepover with endless snacks. Pajamas and fluffy slippers sound so ideal, and you know she'd be down for mattress surfing. Do you think Julie Andrews would come and show off her skills? Put me on that guest list, please — just in case.
You love your lazy friend, and she's still so much fun and incredibly passionate — despite loving her sweatpants just the same. Consider getting one of these awesome gifts this year for your laid-back bestie's birthday.