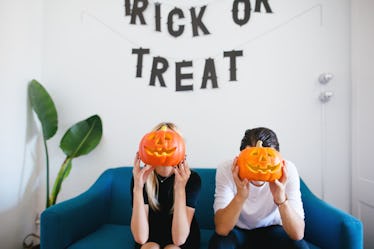 7 Gender-Neutral Couples' Costumes, So Every Couple Can Rock Them On Halloween
Halloween is a time for self-expression, so you shouldn't let gendered costumes get in the way of showing off your creativity come Oct. 31. If you and your partner, BFF, sibling, or anyone else, really, are looking for a unique costume idea that isn't specifically made for one man and one woman (or two women, or two men), you may feel like your only option is to throw on white sheets and go as ghosts. Fear not, though, because these seven gender-neutral couples' costumes for Halloween 2018 are all way more original than that ghostly — er, I mean, ghastly idea.
Maybe you're seriously into makeup and you want to show off your skills, or perhaps you just want a getup that doesn't cost more than 20 bucks. Whatever your goal, I've got you covered. Trust me, in a sea of Bob's Burgers and Game of Thrones couples, you two are sure to stand out. And best of all, I've included links to all of the products you'll need for each costume idea, so you can just click, add to cart, order, and boom — you've won the holiday in just a few minutes.
Halloween might feel far away, but it's going to jump out at you before you know it. Don't get scared, be prepared; go with one (or more!) of these costume ideas that any pair can easily rock.