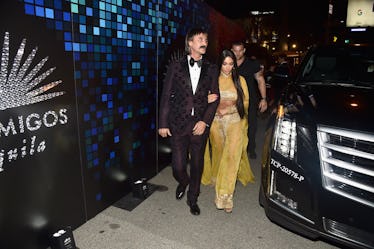 4 Iconic Couples' Halloween Costumes That Will Make Your Friends Say "OMG"
Alberto E. Rodriguez/Getty Images Entertainment/Getty Images
It always helps to gear up for Halloween by looking at celebrity costumes for inspiration. Since they always host and attend the biggest, most lavish blow-outs, they really need to step up their costume game. For couples' Halloween costumes for 2018, you may want to take a look at celebrity couples costumes in the past.
Last year, we saw some pretty creative costumes sweep the internet with their creativity and hilariousness. Kim Kardashian dressed as Cher to perfection, with her best friend Jonathan Cheban suited up as Sonny. Reality star Wells Adams and Modern Family girlfriend Sarah Hyland gender-swapped their Stranger Things look last year as well.
And while these celebrity pairs may not be the entire masterminds behind each look — some of them have stylists for a reason — they do give plenty of inspiration for you and your SO to try the look for Halloween yourselves. Try to copy their look exactly, or add your own personal flare to the costumes — Halloween is the time to let your creative juices flow! Read on for some of the best Halloween couples' costumes from last year.