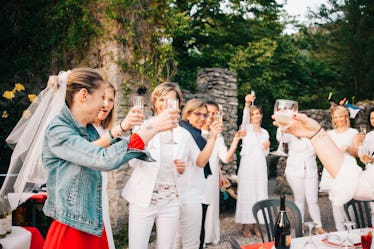 7 Sweetest Engagement Party Ideas For Your Bestie That You'll Say "I Do" To
Your best friend just said "yes," and now you get to say, "yes, please," to all of the exciting wedding celebrations. Up first is the engagement party — aka, the party to celebrate that your BFF's SO certainly liked it, so they put some bling on it. As bestie to the bride-to-be, you may very well have taken on the role as party planner. It may be your first time planning an engagement party. Your BFF might even be the first of your friends to get engaged, so you're in new territory. You've done birthdays and holiday parties, but what are some fun engagement party ideas that'll leave a lasting impression?
Well, welcome to the world of wedding planning essentials. I have got you covered. Ideas may have started flooding your head the minute you saw your best friend's ring pic on Instagram. However, if you're looking for a little extra inspiration, here are seven totally sweet engagement party ideas that you will want to say "I do" to. With you calling all the shots, this engagement party will be so awesome that your bestie will be falling in love all over again. You are committing to being the best BFF any bride has ever seen, so cheers to the happy couple, and let's party!