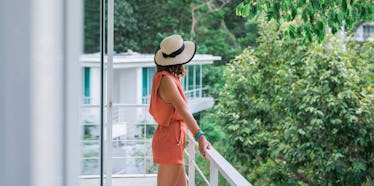 Personal Trainers Reveal The 7 Most Convenient Ways To Work Out When You're Traveling
Working out while traveling can be a difficult feat: Between finding the time for a workout, and realizing all you have to work with is a dingy hotel gym with all of one, ancient-looking treadmill, it's easy to give up on exercise altogether when you're away. And while it's totally OK to take a break from the gym while you're OOO, some people like to maintain at least some sort of fitness routine while abroad. The thing is, keeping your body moving while you're away doesn't have to be complicated. There are plenty of easy ways to exercise while traveling, so that you'll feel your absolute best all vacation long.
Maybe you've already made the executive decision to wake up a bit earlier than usual to sweat it out during your travels, 'cause you know your travel companions definitely won't be about your fitness-forward tendencies if you try to recruit them as your workout buddies during the day. But, once you settle on when to work out, then you have to decide what the easiest, most effective exercise to do on vacation actually is. After all, you still want to relax as much as possible, right?
Luckily, Elite Daily spoke with two fitness experts about the best workouts to do when you're on the move. Here are seven simple ways to exercise while traveling that'll relieve stress, boost your mood, and help you feel your best during your blissful PTO.