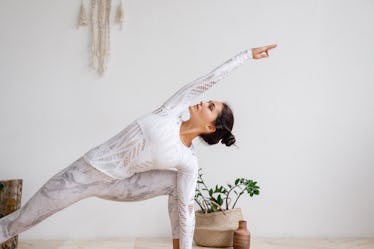 10 Yoga YouTube Channels That'll Take Your Practice To The Next Level
Shutterstock
If you've been bitten by the yoga bug, then you probably hate the thought of going a single day without rolling out your mat, even if it's just for a few minutes. And while it would be ideal to hit up your favorite local studio to get in a nourishing yoga flow every single day, the reality is there's usually not enough time for that. TBH, your wallet probably gets pretty pissed at times, too, which is why having a few reliable yoga YouTube channels bookmarked on your laptop is one of the best ways to keep up with your practice.
Seriously, guys, there are a ton of free classes, tutorials, and informative videos on all things yoga, all across the board, when you browse the magical online land that is YouTube. From five-minute, on-the-go flows to extensive, blissful meditation sessions, YouTube yogis truly have your best interests at heart when it comes to guiding you toward feeling totally awesome in your mind, body, and spirit.
The next time you don't have enough hours in the day to make it to the yoga studio, or even when you simply want to save some cash, check out these 10 YouTube yoga channels that are truly OM-mazing.
This article was originally published on