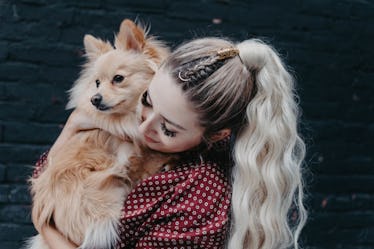 These Dog-Friendly Vacations In The U.S. Are A Real Treat For You & Your Pup
In a perfect world, you'd be able to take your dog everywhere. You'd bring your pup to work and let them curl up under your desk, or to your college campus where they could sprint around the quad before you both hit the books in the library or went to class. The two of you usually hang out at home or the local park that's always filled with other furry friends. But, this year on Monday, Aug. 26 — National Dog Day — you want to do something special together. Have you taken a dreamy trip into consideration? It would be a real treat to go on one of these dog-friendly vacations to take in the U.S. for you and your pup.
These vacations aren't your average getaways to the beach, mountains, or bustling cities around the country. They won't necessarily require hashing out a detailed itinerary or wondering things like, "Can I bring my pup in here?" before heading into a restaurant, store, or super cute ice cream parlor. Instead, they'll make you and your fur-ever friend feel like you're at home, from the second you start lounging in a chair on beach or looking at the #views from your hotel.
I'm pretty paw-sitive they'll make you want to come back and see more of the sights, too. So fetch your pup and laptop, and begin planning one of these seven dog-friendly vacations.