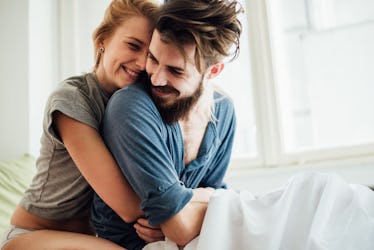 7 Brutally Honest Phases Of Developing Feelings For Your Hookup Buddy, Because LOL, Same
If the movies No Strings Attached and Friends With Benefits have taught us anything — because let's face it, they both have essentially the same plot — it's that even the most well-intentioned FWB situation can be ruined by those pesky little things called feelings. It makes sense to eventually start feeling some type of way about someone you're hooking up with on the reg, but that doesn't stop catching feels from potentially complicating your agreement. That's why these seven honest phases of developing feelings for your hookup buddy are so real.
You shouldn't blame yourself. In fact, you can point the finger at biology. Oxytocin (the love hormone) is released during orgasm. Women naturally produce more oxytocin than men, so they are more likely to experience feelings of closeness and love for a partner after getting physical. And unfortunately, women's bodies can't distinguish between someone who is afraid of commitment and a person who could be your perfect match. Oxytocin affects men too, but not to the same extent. Some guys release the hormone when they orgasm, while others don't.
Falling for a no-strings-attached hookup happens more often than most people would probably like to admit, and yet every time it goes pretty much the same way. Best case scenario, your hookup buddy is into you too, and you ride off into the sunset together on matching white horses. More likely, though, the experience looks a little something like this.