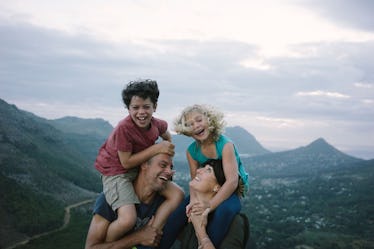 7 Cringeworthy Dad Jokes That He's Proudly Cracked In His Polo Shirt & #DadHat
Dads always have us laughing at loud. Since day one, he's been your personal stand-up comedian, and you wouldn't want it any other way. Most recently, you've probably come to appreciate his sense of humor more. You've found yourself laughing at jokes that once went way over your head, or just wish you could rock one of those dad sweaters, too. (Seriously, they look so comfy!) Sure, his puns and sarcasm can get old at times. But, some of the best dad jokes will just always make you want to cringe, laugh, and hug your dad a little more.
Growing up, you were always so embarrassed any time your dad would make a joke. He'd always pick the moments when he had an audience — family parties, Saturday nights when your friends were at your house for a sleepover, and neighborhood barbecues. You would pretend not to hear him, but that didn't stop him and his winning sense of humor one bit. Now, you're laughing along and probably cracking a few dad jokes of your own. Funny how the tables turn, huh?
Some moments have been truly cringe-worthy, like the jokes that were all too cheesy, or the ones that are so outdated that nobody could have ever understood. During those times, you kept the conversation going, and waited it out until the next one came around. Let's be honest, there's always another joke on the way. But, these seven are pretty classic when it comes to Dad.