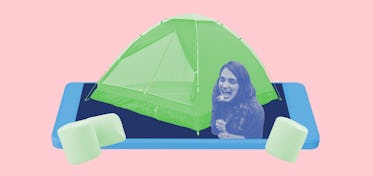 These Backyard Camping Ideas From TikTok Will Make You Feel Like You're On Vacay
Shanelle Infante, Elite Daily
Summer is the season for spending time outside, roasting s'mores, and falling asleep underneath the starry sky. In other words, it's time to go camping. You don't have to travel far in order for this nature-filled adventure to begin, because these backyard camping ideas from TikTok will inspire you to create the perfect campground at home. All you need to get started is a tent, a bag of marshmallows, a few cozy blankets, and LED fairy lights.
Amidst catching up on the latest dance trends, quick recipes, and summery DIY projects, you've likely seen TikTok in the news more than usual lately. The United States is considering placing a ban on TikTok, according to Secretary of State Mike Pompeo's interview with Fox News on July 6. Pompeo cautioned Americans in this Fox News interview that using TikTok can put your personal information "in the hands of the Chinese Communist Party," but the Department of State did not answer Elite Daily's request for additional comment on the subject. As of July 14, there has been no further decision on a TikTok ban.
The ever-so-popular social media outlet has been an entertainment staple throughout the ongoing coronavirus pandemic, and has accumulated one billion users since 2016, according to a July 13 Forbes article. It's been your go-to outlet for at-home inspo. By searching things like #BackyardVibes, #BackyardCamping, and #SummerAtHome, you can find an assortment of videos that can give you some fresh ideas for your own backyard space. Don't have a fire pit for roasting marshmallows? No problem. There are DIY videos that will show how you can make a backyard fire pit with just a planter, and even homemade s'mores dip recipes.
Make scrolling through TikTok easier by checking out these seven backyard camping idea videos. Aim to create your very own home away from home just a few steps away from your backdoor.
This article was originally published on