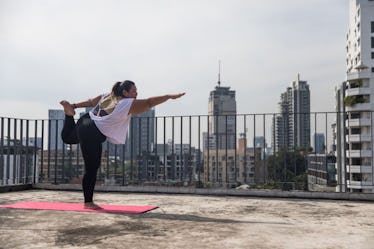 If You Really Want To Feel The Love This Valentine's Day, These 6 Yoga Poses Are A Must
To me personally, practicing yoga is a great way to show my body love. Whenever I make time for a yoga session, I walk away with a deeper appreciation for my strength, not to mention a much calmer mind. If you also enjoy spending time on your yoga mat, these yoga poses for Valentine's Day can help inspire love for both yourself and those closest to you. Whether you will be celebrating romantic love on Feb. 14, or you simply want to open yourself up to greater self-love and love for your friends and family, these poses can help you start the day with a full heart.
"These poses inspire love because they start to loosen the binds around your heart," Allison Zamani, an associate marriage and family therapist, associate professional clinical counselor, and certified yoga instructor, tells Elite Daily. "In yoga anatomy (the anatomy of the subtle body), there are three knots around your heart, more than in other places in your body," she explains. "With heart-opening poses, you are working to loosen these knots." As you move through these poses that physically expose your heart, she says, you'll discover more room for compassion, openness, and love — both for yourself and for others.
As you experiment with these poses, try repeating a simple mantra to deepen your connection to love and trust, suggests Kelly Clifton-Turner, yoga teacher and director of education for YogaSix. Say something like, "I am loved, I am safe," she recommends. "Or, while sustaining a posture, offering a meditation on loving kindness is a beautiful way to radiate love from the inside out," Clifton-Turner adds. Begin by wishing yourself love, then wish it for people in your life, and then finish by wishing love over your community.