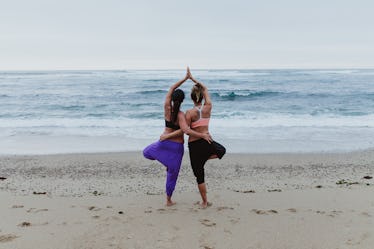 These 5 Partner Yoga Poses May Look Impossible, But They're Actually Pretty Easy
Experimenting with new and unique kinds of yoga seems to be all the hype lately. From goat yoga, to beer yoga, to chocolate yoga, I'm convinced that the line will never, ever be drawn. However, if you're not exactly into getting drunk on your mat, or including a furry farm animal in your practice, doing acro yoga with a friend is still a ton of fun. Including some simple partner yoga poses into your practice is a great way to build trust, a deeper connection with your BFF or lover, and simply have a freaking blast together.
While much of the partner yoga that you probably see on Instagram can look challenging AF, and maybe even like a low-key disaster waiting to happen, there are actually a few beginner poses that are a lot easier than they look.
Ideally, you should try to make it to a beginners' acro yoga class to err on the side of safety, but if you can't, don't sweat it! These beginner poses can still be done in the comfort of your own home, as long as you're mindful and communicative with your yoga pal.
The next time you want to spice up your yoga practice, phone a friend and try these five partner poses that are sure to bring you and a loved one closer together, in more ways than one.