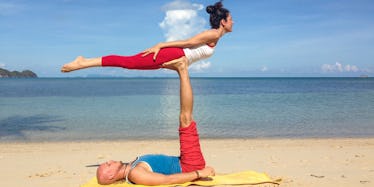 5 Challenging Yoga Poses To Do With A Friend When You're Bored With Your Solo Flow
You've probably seen loads of partner yoga photos sprinkled all over your Instagram feed. Those acrobatic poses are impressive AF, but they also look low-key insanely intimidating. Take it from me, though, you really don't have to be the next star of Cirque Du Soleil to be good at partner yoga. All you really need are a few simple yoga poses for two beginners to get you started on your quest to having fun and getting bendy with your significant other, BFF, or even a complete stranger (I'm here merely to inform, not to judge).
Fun fact: Yoga means "union" in Sanskrit, and that's why the ancient practice can make you feel so in touch with your mind, body, and surroundings.
When you add another person to the equation, the connection and energy that you form through the asanas will truly make it a uniquely awesome experience by cultivating trust, communication, and self-awareness.
And if you think you need to be in a relationship to strike these poses, think again. Honestly, trying out a buddied up boat pose with your BFF could turn out to be the most fun you've had all year.
So roll out a couple of mats, and prop up your phone to record the whole ordeal (trust me, the bloopers will be priceless). Here are five beginner yoga poses for two that are sure to bring you and your partner closer together.