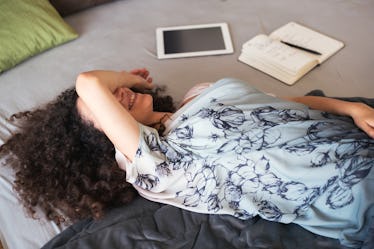 When You Can Barely Keep Your Eyes Open, These 6 Tricks Will Help You Stay Awake
Whether you're studying for a test that's just hours away, fighting fatigue during the last scheduled meeting of your work day, or just trying to stay up so you can make it to your BFF's birthday party, chances are, there have been times you've needed to find a few tricks to help you feel more awake when you're drowsy AF. Let's be real, here: There are only so many cups of coffee you can drink before you get jittery. Plus, real life is busy, and you simply don't always have the time or space to take a quick, half-hour power nap, as great as a small snooze truly is for your energy levels.
Rest assured, you're far from alone in feeling habitually fatigued throughout the day. In fact, according to the American Sleep Association, nearly 40 percent of adults have said they've unintentionally fallen asleep during the daytime at least once in the last month. That's kind of a lot, no?
While nothing beats being fully well-rested, there will always be times when you just need that extra somethin'-somethin' when your energy is tanking and your eyelids are heavy. Here are some wake-up tips to keep in the back of your mind when you've got too much to do before you can actually hit the sack.