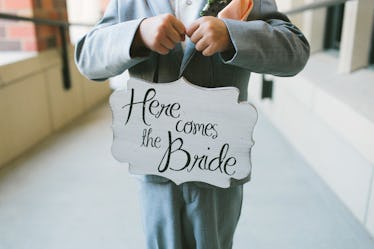 6 Sweet Stories About Ring-Bearers That Are Almost Too Adorable To Believe
Between the look on the groom's face as their sweetheart walks down the aisle, the heartfelt vows, and the first kiss as a married couple, there's obviously a lot of potential for cute moments at a wedding. But let's talk about the ring-bearers for a sec. They not only have a serious job, but they tend to look adorable AF doing it. Hence why there are so many sweet stories about ring-bearers.
Of course, not every wedding has a ring-bearer. And not every ring-bearer actually holds the rings. Still, they do serve a very important purpose that can take the ceremony to a whole new level of memorable. Whether or not they're bearing the wedding bands, the ring-bearer gives guests a solid dose of the warm fuzzies right before the bride makes her entrance. Because honestly, what's cuter than a 5-year-old in a bowtie?
While some may go the traditional route and have their ring-bearers hold a simple silk pillow, many couples are opting to give their ring-bearers unique props and entrances to make them stand out. From a beloved canine to a musical prodigy, here are a few ring-bearer tales that are too stinkin' cute.