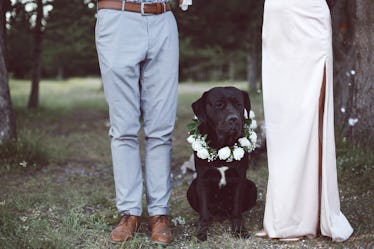 10 Pics Of Fur Babies As Ring Bearers That'll Make You Say, "I Ruff You"
You've likely heard or noticed that the flower girl is the expected underdog to genuinely steal the show at a wedding. But, if there is a dog as a ring bearer, those rosy cheeks and silk ribbons are coming second to the pup — in my opinion. Dogs have this superpower to gravitate every human towards them, no matter what room or event they enter. Seeing pictures of dogs as ring bearers will give you all the feels, because you know you would have been down on the ground in your fine attire supplying well-deserved belly rubs if you were there.
I'm not sure who started the trend of sincerely including their fur baby in their special day, but it was the most brilliant idea ever. Dogs looks so proud and excited when they are trotting down the aisle to their almost-married owners. And pictures? Don't get me started on how sweet pups look making their debut at an event filled with so much love and all the good vibes. That is the epitome of what they are, after all.
If you've been to a wedding with a pup stealing the show, I'm jealous, and lucky you. For those of us who haven't, a roundup will give you a taste of how downright perfect pups can clean up. After seeing these fur babies as ring bearers, you will surely be adding the concept to your wedding dream board.