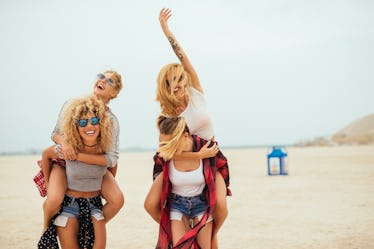 6 Perfectly Spontaneous Things To Check Off Your Spring Break Bucket List This Year
bernardbodo/Fotolia
It's basically spring break. Beach trips have been booked, and you and your besties are starting to think about the smaller bucket lists that don't involve booking plane tickets. These are the adventures that you want to take within your trip, and all the sights you're dying to see. Like every other semester, the past few weeks have felt like a whirlwind, and you're so ready to hit the road. You know your travel buddies are just about down for anything, so these spontaneous things to do with friends on spring break are sure to make the week memorable.
Maybe you're headed for the sand and surf, or decided to soak up some culture in a city instead of the sun. Wherever your wanderlust is taking you, I hope that you packed a camera and your adventurous spirit. Being spontaneous calls for getting out of your comfort zone and daring to do something different. And spring break is the best time to try it out because you don't have to go at it solo — you're with your squad, after all!
You've been feeling so stuck in your schedule, and so round up your friends a few days before and brainstorm some spontaneous things you could do during your week away. I've come up with a couple things you could do with your crew, if you're not quite in that wet and wild mindset yet.