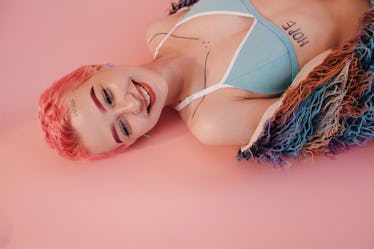 6 Sex Moves To Try When You're Wearing Lingerie & Feeling Yourself
So much of enjoying sex is about feeling good — physical pleasure, confidence in the positions you try, and chemistry between you and your partner. But feeling good about yourself can make sex and intimacy all the more fun, which is why nothing beats buying a new set of lingerie and really feeling yourself in it. Your confidence will shine through all the more brightly if you feel sexy in what you're wearing, and even though lingerie isn't exactly "required" for a good time, sex moves to try when you're wearing lingerie can help you and bae make the most of your sexy look. After all, if you feel like a total babe in bed, you're bound to have a good time.
Whether bae recently gifted you new lingerie, you decided to treat yourself to something nice and lacy, or you're ready to whip out that old black number that always seems to do the trick, you might want to have some solid moves to go with that sizzlin' ensemble. To really show off every angle of that hot number you're wearing and make the most of this sexual experience, don't be afraid to take control. And of course, never forget how hot you are. Your partner won't be able to take their hands of you!