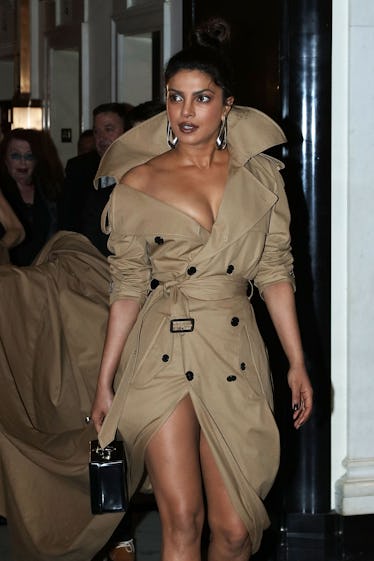 I Tried Surprising My Girlfriend In Nothing But A Trench Coat & It Was An Adventure
Getty
Let me tell you about the time I showed up at my girlfriend's house in nothing but a trench coat. The funny part of this essay would presumably be me navigating a way to sit on the subway without exposing my bare a** to the germ-smothered seat, but the trains are basically always messed up, so I prefer to take cars now. So, unfortunately, this isn't a story about me sitting in something gross or catching the hem of my trench coat in the closing doors. But it is a tragic tale nonetheless.
I have been crazy busy lately, but having the sex drive of a frat bro, I always make my sex life a priority. I regularly dress up and dance for my girlfriend, and show off what I can do with my tongue, so you can imagine my delight when she booked us a romantic getaway in Woodstock last weekend. I had planned to arrive at her apartment in just the trench coat on Friday night, before we were scheduled to leave for our trip. But my hectic schedule kept me from shopping in stores, and all the ones on Amazon Prime were ugly and made out of felt. I packed a weird maxi cardigan that I had brought as an alternative to a trench coat, but I didn't know how I would pull off changing into it in the studio apartment we had rented on Airbnb.
Once we arrived at out Airbnb, she went into the bathroom and I sprang into action. I threw off my tube dress faster than you can say OKURRR! (Cardi B's mating call) and positioned myself on the bed. I kept my velvet boots on.
So, I failed at my assignment. But that didn't stop us from having incredible sex. I had a g-spot orgasm listening to a thunderstorm and The XX so, like, yeah, I love life. But I was still possessed by the idea of the trench coat. So, I decided that Monday would be Trench Coat Day.
Do you see the power of the trench coat? Priyanka Chopra is a vision.
It was a nightmare of a day. Totally freezing. The C, D, and E trains weren't running. Then I got on the wrong train, then frantically jumped off once I realized it was running express. Next, I decided to get a cab, which wound up getting rear-ended by another car. Finally, I had to work.
After my terrible, no good, very bad day, I was itching to embark on an adventure to TJ Maxx. But my series of unfortunate events continued. I was followed for blocks by a man who "just wanted to ask me a question." Then I was followed by a man who said my "robot arm was sexy." (That one I took as a compliment.)
Shopping in New York is hard enough — it's crowded AF, everything's overpriced, and you have to lug your stuff home without your own car or trunk. But on this day, I also had with me my gigantic laptop bag and purse overflowing with leggings, underwear, and toiletries, because I live like a vagabond between my place, my girlfriend's apartment, and my hometown in Long Island, where I get spray-tanned and lashed. Add in the fact that I have one less arm than usual, and I should've known this would be a recipe for disaster.
As I pushed my cart down the treacherous aisles of TJ Maxx, I kept accidentally pulling dresses off hangers left and right. Every time I thought an aisle would be safe to turn down, there'd be another woman positioning her cart in my direction, ready for combat over the discounted Ralph Lauren polos. Then my faux ponytail got stuck on a rack and fell off my head. It was a mess.
I quickly grabbed a Free People maxi wrap dress, a sexy AF tight red t-shirt dress, and cheetah print pajamas. I couldn't resist grabbing an extra pair for my girlfriend even though she totally hates cheetah print and would sooner die than wear a matching outfit with me. My cart was overflowing with bell sleeve crop tops, Daisy Duke shorts, and Calvin Klein underwear. But no trench coats were in sight. I decided that I'd have to get creative, because I was already late for dinner with my girlfriend and wasn't about to trigger myself trying to lug my two gigantic bags through another crowded Manhattan department store. So I skipped straight to the fitting room, trench coat be damned.
Ugh.
The cheetah robe looked perfect with my pointy velvet boots. This is it, I thought. The universe was rewarding me for all the day's inconveniences with a piece of clothing I loved. I was committed to walking out of TJ Maxx in the pouring rain and cold with nothing but a cheetah print robe on. I wished I shaved my legs and bikini line.
Just as I was strutting to the cashier to buy a bunch of sh*t I can't afford (when you're a writer living in Brooklyn, even a $14.99 dress makes a difference), an earsplitting alarm went off. It was so shrill, shoppers dropped their half-price sweaters and covered their ears in pain.
I froze. I hoped it was just a drill, but after a full minute of flashing lights and frozen escalators, I realized it was the real deal. I briefly considered burning to death in the name of fashion, or running outside with my arms full of clothes. If I left the cheetah robe behind, I wouldn't be able to complete the trench coat experiment. But as the siren continued to blare and shoppers made their way up the escalator, I made the executive decision to, like, not die. Fire trucks were on the scene by the time I left the store.
I robe home in an Uber pool feeling defeated. I considered slipping my bra off in an attempt to fulfill my sexy visions for the evening, but I couldn't bring myself to disrobe next to Marcy, my buttoned-up Uber pool buddy.
Once I arrived at my girlfriend's, she was wearing a face mask and I quickly realized we weren't going anywhere for dinner. I didn't care. I was drenched from the rain and wanted nothing more than to get into bed and nuzzle up on her shoulder. Before we fell asleep, she used a blackhead tool to clear out the pores on my nose. So, basically the opposite of me showing up naked at her door in a trench coat. But if there's one thing I've learned is that relationships, like life, aren't always seamlessly perfect and sexy.
Sometimes, your faux ponytail gets pulled off on a rack of $20 Michael Kors dresses, and sometimes, your girlfriend squeezes your blemishes instead of your ass. It's impossible to plan a truly intimate moment because life does this really cute thing of getting in the way. I tried multiple times to pull off the sexy trench coat thing, and failed every time. But that doesn't mean that I'm not totally going back to TJ Maxx tomorrow and buying the sh*t out of that cheetah robe.