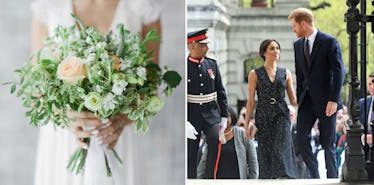 Floral Bouquets To Replicate For Your Own Wedding, Inspired By The Royal Wedding
Spring is in full bloom. Some of us are grabbing extra boxes of tissues — and not just because it's allergy season. The royal wedding of Meghan Markle and Prince Harry takes place on Saturday, May 19, and the day is bound to be straight out of a fairy tale. We'll be crying all the happy tears as we enjoy scones and tea from our seats in front of the TV. Every single detail will make us swoon, right down to the royal wedding bouquets. The exquisite floral arrangements will certainly give us inspiration when it's our turn to say, "I do."
It's tradition that royal brides carry a sprig of myrtle in their bouquets, because the flower stands for marriage and love. According to Town & Country, the royal couple-to-be committed to florist Philippa Craddock, and Markle will carry white garden roses and peonies (in addition to some other elegant varieties). I looked to Kate Middleton's stunning flowers for some inspo on these seven wedding bouquets for your big day, as well as the flowers we might see Markle carrying in just a few short weeks. You deserve to look like royalty when you walk down the aisle, am I right?