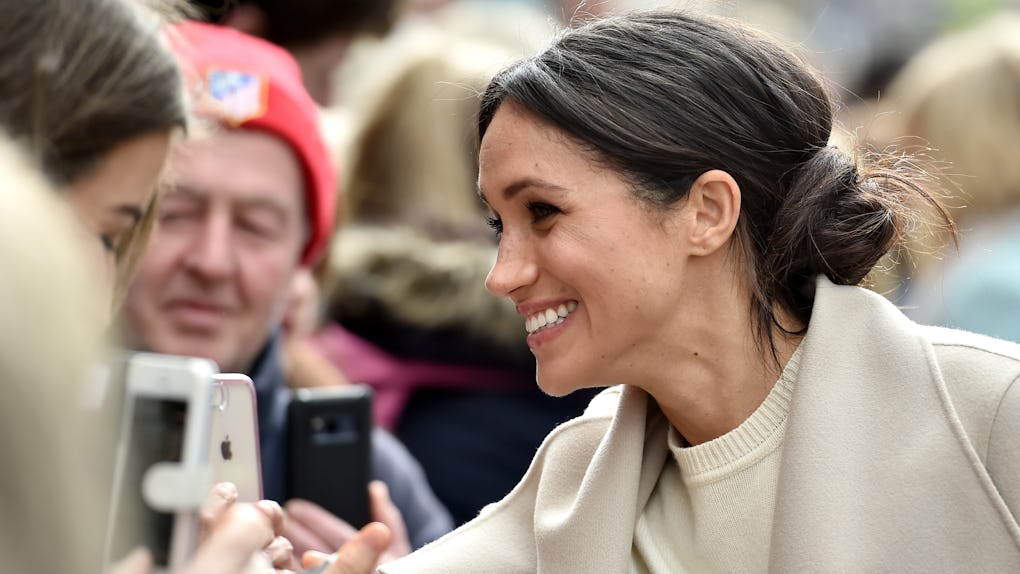 Charles McQuillan/Getty Images Entertainment/Getty Images
25 Instagram Captions About Princesses For Your Royal Wedding Posts
Has anyone seen my glass slipper? With the royal wedding only a few weeks away, I'm feeling regal AF. Meghan Markle is about to marry Prince Harry on May 19 (in the most magical moment of the year), and we're already swooning. Many of us will be waking up bright and early to watch the coverage and toast our Pimm's Cups. Make sure you have your Instagram captions about princesses to document the festivities on social media. Your 'Gram might already be #goals, but you want to keep your social media crown with even more picture-perfect posts.
Once the couple ties the knot, Markle's rumored title will be the Duchess of Sussex, and I'm preparing to cry all the happy tears. The whole world will be watching Markle walk down the aisle in a gorgeous fairy tale wedding dress. I'm slightly expecting sparks to fly out of the television screen and into my scones when the couple says "I do."
The Princess Diaries set the standards pretty high. I'm still waiting for Julie Andrews — or shall I say, Queen Clarice Rinaldi — to show up at my apartment one day with a jet to Genovia. Truth is, we'll each live our own fairy tales and fall head over heels for our own love story. Some of us might not be looking for a Prince Charming, and are handling the dragons just fine on our own. After all, look at Daenerys from Game of Thrones — she's always slaying without a soulmate by her side.
Either way, you'll want to pick out at least a couple of princess and regal-style captions for your Instagram posts to celebrate the royal wedding. The event is going to be nothing short of extraordinary, and you don't want to miss out on a minute of being regal.
1. "Women like you drown oceans." — Rupi Kaur
2. "She dreamed impossible dreams, followed her heart, and created her own little fairytale." — Unknown
3. "Once in awhile, right in the middle of an ordinary life, love gives us a fairy tale." — Unknown
4. "Her courage was her crown, and she wore it like a Queen." — Atticus
5. "She leaves a little sparkle wherever she goes." — Kate Spade
6. "Princess parking only. All others will be toad." — Unknown
7. "She's got that whole purpose driven, warrior princess, save the world type vibe." — Unknown
8. "Keep your heels, head, and standards high." — Coco Chanel
9. "Pearls are always appropriate." — Jackie Kennedy
10. "Be a girl with a mind, a woman with attitude, and a lady with class." —Unknown
11. "Be a pineapple: stand tall, wear a crown, and be sweet on the inside." —Unknown
12. "There is a princess inside all of us." — Unknown
13. "Happiest girls are the prettiest girls." — Audrey Hepburn
14. "You were my cup of tea. But I drink champagne now." — Unknown
15. "Have courage and be kind." — Unknown
16. "A dream is a wish your heart makes." — Lily James, Cinderella
17. "Happily ever after." — Unknown
18. "She was the type of girl the moon chased and the stars wished for." — K.K. Lall
19. "Always wear your invisible crown." — Unknown
20. "Some girls look good in diamonds. Some girls make diamonds look good." — Atticus
21. "The sun is up, the sky is blue, it's beautiful and so are you." — The Beatles
22. "Remember, you're the one who can fill the world with sunshine." —Snow White
23. "Don't forget to fall in love with yourself first." — Carrie Bradshaw, Sex in the City
24. "You're never too old to wish upon a star." — Unknown
25. "Shine bright like a diamond." — Rihanna, "Diamonds"
If the royal wedding isn't already dreamy enough, you might book a trip to one of the beautiful palaces or castles around the world for more princess vibes. Even taking a cruise with your besties is possible — of course, in celebration of the couple-to-be.
On the morning of the wedding, you'll be prepping all of those Pimm's Cups for your friends and maybe even ordering in fish and chips for later on. After all, something so magical will likely last the whole day. So, double-check that your schedule is clear, and prepare your magical posts for social media.